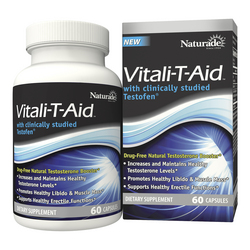 The reason many men over 40 are weak, flabby and lethargic may be due to the decrease in their testosterone levels, which is often ignored by conventional medicine.
Orange, CA (PRWEB) March 9, 2011
The randomized, double blind, placebo controlled study tested sexual function, performance, and libido levels in 60 healthy men aged between 21 and 50 years over a 6 week period. The results showed Testofen, one of the key ingredients in Vitali-T-Aid, produced a significant positive change in all parameters of libido. These results were recently published in Phytotherapy Research, a monthly international journal for medicinal plant research (2011; DOI: 10.1002/ptr.3360).
Vitali-T-Aid component Testofen, a standardized Trigonellafoenum-graecum (Fenugreek) extract and mineral formulation, demonstrated a significant positive effect on physiological aspects of male libido and may assist to maintain normal healthy testosterone levels. Researchers Elizabeth Steels and Amanda Rao from Applied Science and Nutrition Pty Ltd and Luis Vitetta from The University of Queensland, Brisbane, Australia, recruited 60 healthy males aged between 25 and 52, without erectile dysfunction (ED) and randomized them to an oral dose (two tablets per day) of either 600 mg/d Testofen or a placebo for six weeks. The primary outcome measure was the DIS-SR (male) self-administered QOL total score and the four domain scores. The secondary outcome was specific quality of life parameters. The same 600mg dosage equals the amount of Testofen in one serving of Vitali-T-Aid. Each daily dose of Vitali-T-Aid also contains a proprietary Male Enhancement Blend of L-Arginine and beneficial herbs, such as Saw Palmetto, Astragalus, Tribulus and Asian Ginseng, to help support enhanced male health and well-being. An animal study on Testofen, titled "Effect of Furostanol Glycosides from Trigonellafoenum-graecum on the Reproductive System of Male Albino Rats" was also published in the same journal recently.
Testofen, one of the key ingredients in Vitali-T-Aid, demonstrated an overall positive effect on physiological aspects of libido. In particular, there was a significant increase in sexual arousal and orgasm. Testofen had a positive effect on QOL in self-reported satisfaction with muscle strength, energy and well-being, but did not have an effect on mood or sleep. Serum prolactin and testosterone levels remained within the reference range.
Vitali-T-Aid, a new supplement from Naturade, naturally increases free testosterone levels. In clinical studies on the key studied ingredient, Testofen, free testosterone levels in test subjects were shown to increase by over 98% along with exercise. Testofen acts like testosterone by binding to the testosterone receptor sites and creating testosterone-like activity in the body, thereby supporting healthy free testosterone levels. Studies show that Vitali-T-Aid by Naturade is a natural solution for increasing free testosterone levels and promoting healthy libido, immune function and muscle mass. Vitali-T-Aid natural testosterone booster can be purchased on http://www.vitalitaid.com.
About Vitali-T-Aid™
According to WebMD as many as 25% of U.S. men suffer from the affects of low testosterone levels or androgen deficiency. Symptoms of low testosterone include decreased sex drive, lack of energy, loss of muscle mass and increased body fat.
Testosterone naturally declines with age as the body's production begins to slow down. In fact, the average 70 year old man produces only half the testosterone of a 20 year old, while others may experience even more drastic declines.
The key ingredient in Vitali-T-Aid™ helps raise free testosterone naturally, triggering a range of benefits from increased libido to supporting muscle mass. The reason many men over 40 are weak, flabby and lethargic may be due to the decrease in their testosterone levels, which is often ignored by conventional medicine. By supporting healthy levels of testosterone, researchers report that men enjoy more energy, strength and virility, produce a stronger physical response, and experience stronger libido and stamina, giving men and their partners more satisfying love lives.
About Naturade
Headquartered in Orange, CA, Naturade is well-known for its commitment to improving the health and well-being of consumers with innovative, natural products since 1926. The company focuses on building consumer-recognizable brands backed by strong science and making them widely available through health food stores, natural supermarkets and retail channels throughout the U.S. Naturade recently launched an complete line of condition-specific supplements, including Vitali-T-Aid.
For more information about Naturade and its complete line of science-based nutritional supplements for health and well-being, contact Naturade at 800.421.1830 or visit http://www.naturade.com. Naturade can be found on Twitter at http://www.twitter.com/naturade and on Facebook http://www.facebook.com/pages/Naturade/80018411867
###