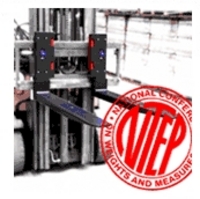 Mobile Weighing of RAVAS will optimize your supply chain !
Buffalo Grove, IL (PRWEB) March 10, 2011
On the CeMAT Messe, RAVAS will introduce RFID iForks integrated in one WMS application. This combination of Mobile pallet weighing and pallet identification all integrated in one forklift truck will be a new extension of the RAVAS mobile weighing product line. Mobile weighing systems are scales integrated in forklift trucks, pallet trucks (pallet jacks), electric pallet trucks, stackers, order picking trucks and reach trucks. With mobile scales the weighing is done during transport, saving time, space and manpower. Weighing takes place where you want, creating maximum efficiency and flexibility in logistic applications. A mobile scale earns itself back within a short period of time. Mobile scales will make logistics cheaper and more efficient. Mobile scales will generate management information without errors, it will reduces receivers claims raising customers satisfactory and saving costs.
Mobile scales are an important tool throughout the transport and logistics industry, for error free order picking, for time efficient determining of shipping weights, for invoicing palletized express shipments and air cargo, for avoiding overloaded freight trucks.
Also the environmental industry uses mobile scales on board freight trucks to weigh collected waste at their clients site. Also part suppliers in the automotive industry use mobile scales to count parts in just-in-time deliveries. Even in military applications mobile weighing becomes a major tool to determine load distribution on cargo planes and helicopters.
More applications are in the following industries: Logistics 3PL – third party logistics: mobile scales are frequently used in contract logistics. Especially in order picking: reducing errors lowers cost per order line and raises client satisfaction, which might mean renewal of the contract or acquisition of new clients. Retail chains: Distribution centres in supermarket chains use scales on walkie and rider pallet trucks for checking incoming and outgoing goods and for correcting picking errors. Express logistics: Companies like FedEx, DHL and TNT are moving more and more palletized goods. These pallets do not pass over the automated conveyor belts, but need to be identified and weighed anyway, for planning and invoicing. They are usually weighed on the lift trucks that move them around the hubs.
Also Air freight is expensive and invoiced by weight, which is usually declared too low by the sender. Air freight companies weigh to optimize their profitability by post hoc invoicing and to ensure proper weight distribution on airplanes. Since these companies always work under time pressure (waiting planes are expensive), they use mobile scales on their lift trucks to minimize time losses.
###