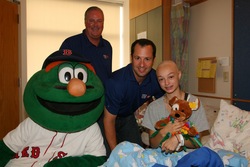 "The auction has something for everyone, from autographed memorabilia to once-in-a-lifetime experiences. We encourage fans to tell all of their friends to check the website often for a list of available items."
New York, NY (PRWEB) March 9, 2011
2011 All-Star Game tickets, the chance to watch batting practice from the field at a Major League Baseball (MLB) stadium, Green Monster seats for a Red Sox-Yankees game, an opportunity to go behind-the-scenes at ESPN Baseball Tonight, a signed game-used baseball from Roy Halladay's perfect game, and a collection of more than 70 Minor League Baseball Suites and Ticket Packages are available online in the 3rd Annual UMPS CARE Charities Online Auction.
The 12-day online auction, with more than 200 items, opens on Wednesday, March 9 at 7 a.m. EDT. To view the auction catalog and bid, visit http://www.UmpsCare.com and follow the auction links. The auction closes on Sunday, March 20.
Proceeds from the online auction allow MLB Umpires to provide Build-A-Bear Workshop® experiences for children with cancer, Major League Baseball experiences for children awaiting adoption, college scholarships for young adults who were adopted as children, and financial assistance for families in need.
Sports fans—or anyone who loves a sports fan—can bid on unique experiences and spectacular packages, including "Lunch with an Ump" and signed memorabilia from current stars Albert Pujols, Stephen Strasburg, Matt Holliday, Carlos Gonzalez, and Roy Halladay, as well as all-time greats like Frank Robinson, Nolan Ryan, Al Kaline, Lou Brock, and Harmon Killebrew.
There are plenty of items for the non-baseball fan as well, including dinner with financial guru Guy Adami after a taping of CNBC's hit show Fast Money, a Pinehurst Resort Golf Experience with PGA Teaching Pro Dan Kochevar, golf with ESPN's Scott Van Pelt at Lyman Orchards Golf Club, PGA Championship tickets, memorabilia signed by President Obama and both Presidents Bush, two-night stays at premier hotels around the country including the magnificent Crowne Plaza Times Square Manhattan, and a selection of signed golf and football memorabilia.
"The auction really has something for everyone, from autographed memorabilia to once-in-a-lifetime experiences," said Gary Darling, MLB umpire and President of the Board for UMPS CARE Charities. "We encourage fans to tell all of their friends to check the website often for a list of available items."
Special "Bid for a Buck" auctions, contests, and giveaways will be announced via Twitter and Facebook throughout the 12-day event. Items starting at $1 and available for a day or less will include game tickets, sportswear, memorabilia, and gift certificates. Follow UMPS CARE Charities on Twitter @UmpsCare and Facebook http://www.facebook.com/UmpsCare for "Bid for a Buck" details.
Visit http://www.UmpsCare.com and follow the auction links to bid on items, then keep checking back to make sure you haven't been outbid. Help MLB Umpires make the easy call for kids by bidding on one of the many amazing items in the 3rd Annual UMPS CARE Charities Online Auction!
MEDIA CONTACT:
Ryan Woodcock
CruzWood Communications
woody(at)cruzwood(dot)com
###