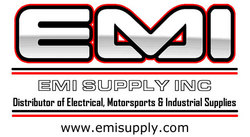 "Bio-Circle self-renewing, self-regenerating parts cleaning systems are safe, efficient and sustainable using VOC free cleaning solution.", states Chad Conrad, Vice President, EMI Supply Inc.
Concord, NC (PRWEB) March 9, 2011
EMI Supply Inc. offers a way to keep your metal parts clean and performing at their best while lessening your company's impact on the Earth. The Bio-Circle Parts washers come in two sizes: mini (29 x 28 x 44in, 24 gallon) and maxi (38 x 27 x 43in, 37 gallon). Both kits include 6 scheduled maintenance calls, use of the Walter Parts Washer, Bio-Circle L solution, start up of the system, employee training, customer service help desk availability and Walter's commitment to Life Cycle Stewardship of the parts washer. The Bio-Circle L cleaner/degreaser is non-flammable, non-toxic, NSF C1 Listed, free of Volatile Organic Compounds (VOC's) so there is no waste disposal problem and carries a Triple Zero rating on the NFPA Safety Diamond. It continuously renews itself while safely removing grease, grime and debris from metal parts while eliminating the need to use hazardous VOC-emitting solvents. To order this toxic free cleaner go to EMI Supply Inc.'s website at http://www.emisupply.com/Bio-Circle today.
"The motto we try to have here at the garage is 'do no harm.' We like restoring cars and we like to do it in as green a way as possible. With that in mind, I try to find parts cleaners that don't harm the environment. … Normally I always think the stronger the solvent, the better the cleaning, and of course it's harsh on your hands, but Bio-Circle doesn't work that way. The secret is in the solution. It sits in this thing overnight, and it actually cleans itself. That's pretty good." – Jay Leno, Jay Leno's Big Dog Garage
"EMI Supply Inc. believes that products that are good for the environment are best for our customers. The Bio-Circle L solution has cleaning agents that are strong enough to remove oil and grease and yet are safe for use on all metals and safe for the Earth. It is the best VOC free cleaning agent on the market," said Chad Conrad, Vice President, EMI Supply Inc.
EMI Supply Inc., located in Concord, NC, is a stocking distributor of electrical, motorsports and industrial supplies. EMI Supply Inc. is an authorized distributor of many well respected brand names and features inside sales support and secure on-line ordering via their website at http://www.emisupply.com. For questions, please contact EMI Supply Inc. by phone at (888) 721-3641, via email at sales(at)emisupply(dot)com, or on their website at http://www.emisupply.com.
Chad Conrad
EMI Supply Inc.
290 International Dr NW
Concord, NC 28027
888-721-3641
Fax: 704-721-3644
Cage Code # 513S9
http://www.emisupply.com
###