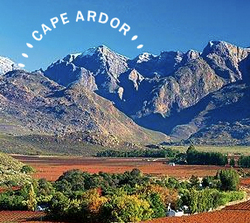 San Francisco, CA (PRWEB) March 9, 2011
Cape Ardor announces the launch of their redesigned Direct-to-Consumer website that will now feature over 160 South African wines and growing. Cape Ardor, a California importer and distributor, has been developing a collection of unique, small production South African wines since they started importing wines in 2008. In addition to producers Cape Ardor directly imports, they also have been working with other US importers and distributors to establish the most comprehensive listings of quality South African wines available in the U.S.
Cape Ardor's Managing Director, Eric Matkovich, states "Cape Ardor's continuing devotion is to the development of the South African wine category in the U.S. The best way to do that, we believe, is by bringing the best in South African wine culture, quality and value to the U.S. This also includes educating U.S. consumers about the leadership, both socially and environmentally, that the South African wine producing community is spearheading. These programs include development of alliances like Sustainable Wine South Africa(SWSA), a joint effort of the Wine and Spirit Board (WSB), the Integrated Production of Wine (IPW) scheme, the Biodiversity & Wine Initiative (BWI) and Wines of South Africa (WOSA). These are organizations that are committed to integrity and sustainability in the production of wine."
Over the next quarter, Cape Ardor will be introducing a simplified way for consumers to identify wineries that are participating in these programs.
This week, Cape Ardor has concluded an agreement with another importer out of Atlanta, Georgia to carry many of their top producers, including estates like Solms-Delta, De Wetshof, Dornier, Vrede en Lust, and Muratie. These acclaimed estates will add to popular producers from Cape Ardor like Diemersfontein, Haute Cabriere, Iona, Ridgeback and Raka. Cape Ardor's portal is also carrying brands sourced by by several other importers which includes quality producers like Delheim, Kaapzicht, Stellekaya and Villiera. Detailed producer listings can be found here.
Cape Ardor's unique position as an importer & distributor allows them to source wines from small, independent or boutique producers of high quality wines and provide them access and exposure to the U.S. market. Eric adds, "By being in market and having the Direct to Consumer channel available, it can provide a vetting ground for emerging properties looking to gain some initial market exposure in the U.S. or to provide continuity from their cellar door. This also can help to lay a basic foundation based on consumer demand that can be developed into our regular distribution channels."
The U.S. wine market has been undergoing a consolidation in distribution with increasing pressures on portfolio managers to either reduce or eliminate low volume brands. This can be detrimental or bar access completely to small producers attempting to gain entry to the market. With few South African wines enjoying national distribution, you will find a concentration in one area of the country and little or no availability elsewhere. The Direct to Consumer channel provides a critical bridge in the gaps of general consumer availability. The Cape Ardor portal is emerging as the go to source for South African wine in the United States.
To celebrate the launch of their new website, Cape Ardor will be offering $10 shipping on any case of wine for the month of March. (See details at http://www.cape-ardor.com.)
Additional information:
South African producers looking for more information about Cape Ardor's producer program, please submit your contact details at: http://www.cape-ardor.com/Contact
For U.S. consumers interested in finding out more about Cape Ardor, please visit http://www.cape-ardor.com.
Follow Cape Ardor via Facebook.
Follow Cape Ardor via Twitter.
About Cape Ardor:
Cape Ardor is a South African wine importer, distributor and consumer direct retailer that is focused on value & quality as well as promoting the South African wine industry as a whole in the United States. Details on their portfolio as well as upcoming events can be found at Cape Ardor LLC
# # #