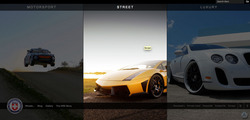 Our goal from the beginning was to create a visually stunning, content rich experience for the most discriminating consumers in the world, period.
San Diego, CA (PRWEB) March 8, 2011
HRE Performance Wheels unveiled today an all-new website, designed to highlight its standing as a top-tier luxury brand. The site features stunning photography, streaming media and a radical new blog design that creates a visual interface for the user. Expanded content is laid out in a unique split-screen format to help enthusiasts dive into the realm that best suits their lifestyle.
"We did not want to simply raise the bar for a wheel company website," says HRE President Alan Peltier. "Our goal from the beginning was to create a visually stunning, content rich experience for the most discriminating consumers in the world, period. HRE is having a fantastic year, and with this new site consumers will have a seamless experience moving from HREwheels.com to the websites for the top watch, automobile and fashion brands in the world. HRE builds the finest hand-crafted bespoke wheels on earth, and we needed a site that reflected that attention to detail and our leadership position in the market. We think we have it."
The new HRE website features work from top fine art and motorsport photographers with a lifestyle focus. Designed to highlight its customers and their passions, the photography ranges from hand-assembled 250mph supercars to high-flying rally machines and stunning cityscapes, all shot in the wild at locations around the globe. The site is organized to provide quick and direct access to all of these resources, and if a user is not sure where to look for specific information, a site-wide search engine will help.
Other new features include fully integrated Facebook and Twitter feeds for an immersive social media experience, large high-res image galleries for each wheel line broken down by consumer category (motorsport, street, luxury) and a digital concierge service for those who desire a truly hands-on wheel design experience. The aforementioned blog and a constantly evolving image gallery divide the page into panels, with each panel providing access to a new chapter or photo shoot. Once again the focus is not on the wheels themselves, but on the quality and eminence of the vehicles that wear them.
The new site comes on the heels of HRE's recent announcement of a partnership with TireRack.com – the largest wheel and tire dealer in the United States, as well as the launch of its European division, HRE GmbH in Stuttgart, and new sponsorship agreements with top teams in virtually every form of motorsport – from Grand Am, World Challenge, SCCA and NASA road racing to Formula Drift, Time Attack, Rally and hill climb teams. HRE has also unveiled three new wheel lines in the past quarter.
About HRE Performance Wheels
HRE designs, engineers and manufactures 3-piece and 1-piece forged aluminum wheels for Racing, Performance & Luxury cars and SUV's in its San Diego, California-based, TÜV-approved facility. HRE's bespoke wheel sets offer a customized choice of offsets, widths and finishes, resulting in a uniquely personal style and performance solution for each customer's application. HRE wheels are sold through select high-end car dealerships, specialty retailers and performance companies worldwide. For more information, visit http://www.hrewheels.com or call (760) 598-1960.
# # #