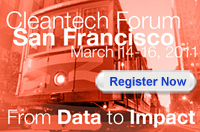 Cleantech Forum San Francisco highlights tomorrow's investment strategies as the ability to collect, communicate and analyze vast new streams of data present both challenges and opportunities that impact cleantech deployments
San Francisco, CA (PRWEB) March 8, 2011
The ninth annual Cleantech Forum San Francisco, hosted by Cleantech Group, will be held at the Hyatt Regency Hotel March 14-16, 2011. The longest-running and largest annual assembly of global leaders of the clean technology sector, Cleantech Forum San Francisco will unite corporate executives, investors, startups and policy makers to explore the expanding opportunities and critical challenges at the nexus of cleantech and information technology (IT). More than 700 clean technology leaders from over twenty-five countries and thirty-five states have already registered to attend the forum.
As the industry's most recognized clean technology gathering, Cleantech Forum San Francisco is the flagship event produced by Cleantech Group, the leading global provider of business intelligence for companies and investors focusing on clean technology. The focus of this year's Cleantech Forum San Francisco is "From Data to Impact: How Technology will Drive the Cleantech Economy." Featuring more than 50 distinguished speakers, including keynotes from Jonathan Silver, Executive Director of the DOE's Loan Programs Office, John Denniston of KPCB, Pioneer and Tesla CEO Elon Musk, the forum will convene the industries top executives for a series of dynamic discussions on how the adoption of data and measurement technologies will provide the foundation for substantial growth and investment opportunities throughout the cleantech sector.
"Cleantech Group has closely followed the cleantech investment landscape for the past decade and has continues to expand the depth and breadth of our Analyst expertise. We feel quite uniquely positioned to provide insights on the convergence of IT and clean technology," said Sheeraz Haji, CEO, Cleantech Group. "Cleantech Forum San Francisco highlights tomorrow's investment strategies as the ability to collect, communicate and analyze vast new streams of data present both challenges and opportunities that impact cleantech deployments."
Over the course of three days, attendees at Cleantech Forum San Francisco will attend interactive panel discussions and CEO presentations, participate in roundtable industry breakout sessions and network with hundreds of industry influencers. The Cleantech Forum also will offer the following unique exhibits and insights opportunities:

Cleantech Electric Car Show: The forum will feature the first ever all-electric car show. Attendees will be able to preview the new wave of electric cars and charging stations that are paving the way for the next generation of automobiles.
Entrepreneur Showcases: Competitively selected CEOs from across the full cleantech spectrum will present and pitch their investment opportunity; sessions are held for companies seeking Series A or Series B and C venture rounds.
Cleantech Tour of the Bay Area: This hands-on tour of the San Francisco area allows participants to see and meet local cleantech entrepreneurs in action and get a sneak peek at the City of San Francisco's upcoming cleantech incubator.
News Announcements: Several Cleantech Forum participants, including Veolia Environnement and Deloitte, have scheduled significant announcements about their cleantech initiatives and research at the Forum.
Global Cleantech 100: This annual list of top cleantech companies will open for nomination.
Cleantech Forum San Francisco is the flagship of Cleantech Group's research driven global events worldwide. For more information about Cleantech Forum San Francisco, or to register for the conference, visit http://events.cleantech.com/sanfrancisco/.
About Cleantech Group
Cleantech Group is a leading global source of business intelligence for companies and investors focusing on cleantech. Cleantech Group pioneered the clean technology investment category in 2002 and its heritage provides a unique vantage point that enables deep industry insights. The company's worldwide network of investors, entrepreneurs, enterprises, service providers and others – representing more than $3 trillion in assets – receive access to capital, investment deal flow, networking, market leading research and data, sales leads and promotional opportunities. Cleantech Group also provides strategic research and advisory services for large corporations and governments and helps them make smart business decisions by providing clear, actionable insights into clean technology and innovation. Cleantech Group publishes leading cleantech sector industry news coverage and produces the premier Cleantech Forum events worldwide. Details at http://www.cleantech.com/.
###