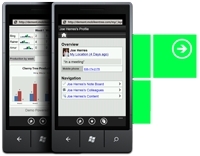 We are pleased and excited to have Mobile Entrée as a part of the Microsoft Technology Center Solution Set.
Manassas, VA (PRWEB) March 10, 2011
H3 Solutions, Inc., the industry leader in SharePoint mobility, has signed an agreement with Microsoft to provide their mobile application framework for SharePoint, Mobile Entree, as a resource in the 23 Microsoft Technology Centers around the world. As the industry's first SharePoint-integrated platform for mobile applications that allows cross-device access, Mobile Entrée provides both rich, turnkey access to SharePoint as well as the platform to develop custom mobile applications. Mobile Entrée will provide the MTC with a value-added product to best demonstrate the art of the possible for customer mobile SharePoint requirements.
"Our customers are increasingly asking for mobile SharePoint solutions" Says David McDonald Sr. Technology Architect, Reston MTC "We are pleased and excited to have Mobile Entrée as a part of the Microsoft Technology Center Solution Set. This rich solution is fully integrated into SharePoint with no other server requirements. Customers leverage their SharePoint software investment and are able to use their .Net technical staff and/or System Integrators to develop custom mobile web applications using the Mobile Entrée API. It truly meets an important need for our customers. We look forward to having it available in all of the MTCs."
Since the release of Mobile Entrée, H3 Solutions has experienced adoption of their solution at an international level. The robustness of the product coupled with the extensive partner community in place for Mobile Entrée makes it the mobility solution of choice for Microsoft SharePoint. It enables customers to access and act on information anytime, anywhere.
Microsoft Technology Centers are collaborative environments that provide access to innovative technologies and world-class expertise, enabling customers to envision, design, and deploy solutions to meet their exact needs.
H3 Solutions is a Microsoft Gold Certified Partner, provides innovative products and solutions for clients in both the public and private sectors. H3 Solutions is based in Virginia, and is privately held.
For more information please visit http://www.mobileentree.com
###