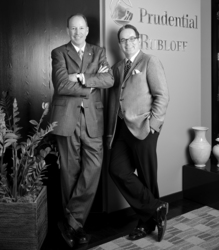 Chicago, IL (PRWEB) March 8, 2011
Prudential Rubloff received the Gibraltar Circle Award from Prudential Real Estate Affiliates (PREA) at the 2011 Prudential Sales Convention held in San Diego, CA. The Gibraltar Circle Award is presented to the Top 50 companies in the Prudential Real Estate Affiliate Network. Prudential Rubloff ranked sixth place in 2010, an impressive increase over 21st place in 2009. This is the fourth consecutive year that the company has received the award.
"The Gibraltar Circle Award is the highest award bestowed upon an affiliate company by the Prudential Real Estate Affiliates Network," said Michael Pierson, President and Chairman of the Board of Prudential Rubloff. "We were thrilled to receive this award and accepted it enthusiastically on behalf of our agents."
"Receiving such a prestigious national award is truly a testament to the dedication and hard work of all of our Prudential Rubloff sales professionals and staff," added Chris Eigel, Chief Executive Officer of Prudential Rubloff.
About Prudential Rubloff Properties:
Prudential Rubloff Properties has 17 sales offices with over 900 sales professionals and staff in Chicago's Gold Coast, Lincoln Park, Lakeview and South Loop, as well as Evanston, Glenview, Highland Park, Hinsdale, Lake Forest, Libertyville, Northbrook, Wheaton, Winnetka and Michigan's Harbor Country.
Prudential Rubloff Properties is the exclusive provider of Premier Market Watch Reports, a consumer trend and analysis tool for neighborhoods and communities in Chicagoland's Cook, Lake, and DuPage counties. To receive Premier Market Watch reports, register at Rubloff.com/MarketWatch.
Prudential Rubloff Properties is an independently owned and operated member of Prudential Real Estate Affiliates, a full-service residential and commercial real estate network with nearly 1,700 franchise offices and approximately 60,000 sales professionals in the franchise network in the United States and Canada. Prudential Real Estate ranked Highest Overall Satisfaction for Home Sellers Among National Full Service Real Estate Firms in J.D. Power and Associates 2010 Home Buyer/Seller Study.
For additional information and the finest online residential real estate experience in Chicago, please visit Rubloff.com.
# # #