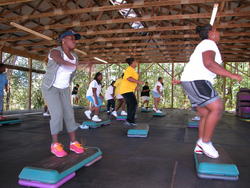 Founder of Camp Shane, David Ettenberg says, 'The camp will provide an incredibly beneficial and enjoyable experience to kids who otherwise could not afford to attend camp.'
Croton On Hudson, NY (PRWEB) March 15, 2011
Camp Shane, the world's leading and longest-running weight loss camp, has announced the formation of Shane Cares, the nation's first nonprofit weight loss and fitness camp for economically disadvantaged, overweight children.
Shane Camps and Resorts have earned their reputation for running successful weight loss programs. For 42 years Camp Shane has helped countless numbers of campers lose weight, gain self-esteem, and develop healthy lifestyles. The simple formula of proper nutrition and exercise has worked without fail every summer and the long-term success rate for campers has proven to be very high.
With the owners' expertise and passion for helping overweight and obese children came the idea to extend a helping hand to those who need it most: urban, economically disadvantaged children who are plagued by unhealthy diets and lack of exercise.
"We are excited to help a segment of our population that has a large percentage of overweight children by having them attend Shane Cares," said David Ettenberg, Camp Shane Owner. "The camp will provide an incredibly beneficial and enjoyable experience in our serene Catskill Mountain setting to kids who otherwise could not afford to attend camp."
Camp Shane is seeking the help of corporate and individual sponsors to enable it to enroll 100 - 600 overweight children ages 7-12 to participate over the course of two to three weeks. The program, which normally costs $3,600 for a three week session, will be provided nearly free of cost to the campers. While at camp, these campers will have the opportunity to partake in healthy and fun nutrition and fitness activities. The camp will also provide the tools necessary to teach campers how to not only continue the healthy lifestyle at home, but also teach and enable their families to take part.
The nonprofit camp, located in New York's beautiful Catskill Mountains, will be opening its gates in 2012 and is poised to be extended to other locations around the country in following years. Camp Shane has three weight loss camps for children in New York, Arizona and California and also offers an adult weight loss program in New York.
Co-founder David Ettenberg, owner and president of Camp Shane, is a recognized expert on weight loss camps and loved by thousands of parents and campers for his life-changing work. Camp Shane has been featured in many media, including MSNBC, ABC's "20/20", Dr. Phil, TLC, A&E's Investigative Reports, Newsweek and Time Magazine, Discovery Health, and MTV.
Co-founder Ziporah Janowski is the president and founder of Shane Diet Resorts, a weight loss program for young adults and adults and was previously associate general counsel for Mercer Inc. and chief legal ethics officer for Mercer's parent company, Marsh & McLennan Companies, Inc.
Inquiries can be made to Ziporah(at)campshane(dot)com or (914) 271-4141.
###