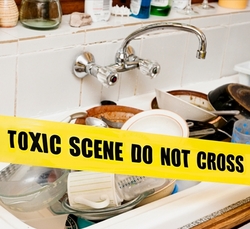 Garden Grove, CA (PRWEB) March 9, 2011
Earth Friendly Products (http://www.ecos.com), makers of the top-selling eco-friendly cleaning products, is bringing the company's "Green Clean Team" campaign to the show floor at Natural Products Expo West. The campaign, which includes a contest on Facebook to convert "dirty" households into "green clean" homes, will be prominently displayed at Booth 3432a along with Earth Friendly Products award-winning cleaning products line-up.
This year, Earth Friendly Products will have the entire line of home and industrial cleaning products on display, including DuoDish, named "Best of Show" at the 2010 Expo West by Veg News and the latest product pack, the Safeguard Your Home six-pack, which contains six of the most-popular products in the consumer line-up. In addition to sharing the product line up with Expo attendees, Earth Friendly Products will encourage attendees to enter the Green Clean Team contest.
"Natural Products Expo West is a highlight of the year for Earth Friendly Products. In addition to showing off our entire line and our latest products, it lifts our spirits to be among likeminded companies that are creating products to preserve the environment and the health of consumers around the world," said Kelly Vlahakis-Hanks, Vice President of Earth Friendly Products. "We are also delighted to share the Green Clean Team campaign, which is an extension of our popular Safeguard Your Home program, at this year's Expo. We will encourage the attendees to educate themselves and their loved ones about the benefits of green cleaning through entering our contest. And they can win an iPad!"
Those who won't be at Natural Products Expo West can enter the Green Clean Team contest by visiting the Earth Friendly Products page on Facebook. The first step is clicking "like" to join the company's page. Then, participants must upload a photo or video of the their nominees' cleaning supplies cabinet or dirty home with an explanation of why the nominee needs help finding his or her way to the path of green cleaning. The best submission will receive an iPad for the nominator and the nominee, as well as a full year's supply of top-selling cleaning products by Earth Friendly Products.
Five runner-ups will receive two Safeguard Your Home six packs, one for the nominee and one for the nominator, which include ECOS laundry detergent, Eco Breeze fabric refresher, Parsley Plus multi-surface cleaner, Dishmate hand dishwashing liquid, Wave auto-dishwashing gel and Window Cleaner.
The campaign is now open to all U.S. and U.K. residents ages 18 and over. All entries must be received by 11:59 p.m. PST on Friday, April 15, 2011. The winner and five runner-up entries will be announced on Earth Day, Friday, April 22, 2011.
Readers who would like more information about Earth Friendly Products should visit http://www.ecos.com.
About Earth Friendly Products
Earth Friendly Products is the leader in the development and production of environmentally friendly cleaning supplies for household and commercial use with over 150 products manufactured, distributed, and sold in the USA, Canada, Europe, South America, and Asia. All Earth Friendly Products are created with only replenishable and sustainable plant-based ingredients that are safe for people, pets, and the planet. The company proudly adheres to its strict "Freedom Code", a list of harmful and toxic ingredients that are not found in any of its products. Earth Friendly Products has proudly received the 2009 Green PatriotTM Green 100TM
Designation and the Champion level recognition from the US EPA through the Design for the Environment (DfE) Program's Safer Detergents Stewardship Initiative.
###