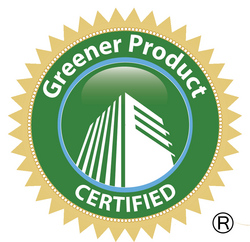 North Charleston, SC (PRWEB) March 11, 2011
Greener Product LLC is pleased to award Excel Dryer the Greener Product Certification Seal for their Xlerator hand dryers. The Greener Product Certification Seal demonstrates that a product has been evaluated against the green building standards adopted by the United States Green Building Council's LEED®, LEED® for Homes and the National Association of Home Builders (NAHB). Products are certified as compling with recognized green standards in one of more areas and products are searchable through an online data base.
"Knowing the increasing importance of this type of certification, for businesses and consumers, we undertook a rigorous process to develop a program that will ensure that manufacturers are accountable for their environmental product claims," stated Peter Rundle, CEO, Greener Product LLC. He continued "It is vital that the certification process is objective, transparent and trustworth".
Manufacturers that earn the Seal produce environmentally friendly green building products and are evaluated in seven areas including energy, recycled content, regionally produced materials, air quality, renewable materials and reclaimed materials. Products are searchable in twenty four building products categories according to type of building product and the desired environmental attribute.
"Excel is committed to being a recognized leader in the development of sustainable processes, products and activities that preserve natural resources and contribute to social improvement," said Denis Gagnon, president of Excel Dryer. "We are proud to produce a dryer that can dry hands in one third of the time required by conventional hand dryers. This results in the XLERATOR uses 80% less energy than conventional hand dryers."
XLERATOR delivers a 95% cost savings vs. paper towels and is the first hand dryer to achieve GreenSpec® approval. It also helps facilities to qualify for LEED® (Leadership in Energy and Environmental Design) credits by the U.S. Green Building Council. XLERATOR dryers can help facility managers save thousands annually by eliminating the need for paper towel dispensers and their maintenance.
Currently, XLERATOR is installed in a variety of busy, high traffic restrooms, including some high-profile destinations such as Disney World and the new Wembley Stadium.
Greener Product
The Greener Product Certification Seal is used to assist architects, contractors and other green professionals easily identify products that meet the highest green building standards and offer maximum performance and long-term durability. Once the seal is earned the manufacturer can use the Seal to demonstrate their commitment to the environment and provide customers with insurance against false product claims.
Greener Product LLC, 8761 Dorchester Rd, Suite 205, North Charleston, SC. ZIP 29420 Tel: (843) 576 0112 or at http://www.greenerproduct.com
Excel Dryer, Inc. can be reached at P. O. Box 365, 357 Chestnut Street, East Longmeadow, MA. ZIP 01028 Tel: (413) 525-4531 or at http://www.exceldryer.com.
# # #