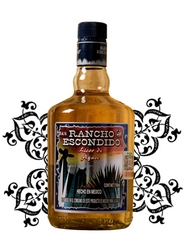 Irvine, CA (PRWEB) March 9, 2011
Grupo Corona Sprits has received worldwide acclaim for the superb taste, quality and affordability of its century-old original agave tequila, Rancho Escondido. Now, as a result of its international praise and success, Grupo Corona Spirits will provide its premium quality agave liqueur and tequila throughout the United States.
Rancho Escondido is a fifty-six proof liqueur, a unique combination of one hundred percent agave tequila and agave nectar. It currently sells nearly one million cases a year in Mexico.
While Rancho Escondido is new to the United States, its history in its native Mexico is teeming with tradition. Founded in 1932, Senor Benjamin Pelayo used Tonaya's rich regional bounty to produce his agave liqueur. Soon, word spread and he expanded to include Costa Alegre and the rest of the southern part of Jalisco. Its popularity soared and in 1989, Grupo Corona was formed and continued to produce the highest quality tequila and agave liqueur in Mexico and the world over.
It is the details that set Rancho Escondido apart from the rest; while Grupo Corona produces pure white agave liqueur, the aged agave rests in oak barrels that bring out its distinctive flavor overtones, aromas, and colors. Bridging the old and the new, Rancho Escondido Agave Liqueur is still produced using the same methods of its early days in an innovative and expansive facility, where it is centrally produced, packaged and distributed. Although Agave Liqueur is new to the United States, given the popularity of agave nectar, Grupo Corona feels the timing is perfect for a widespread launch in the United States.
# # #