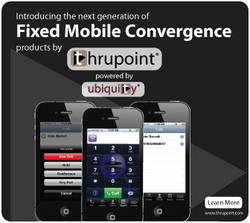 Receiving the UC Product of the Year award is a distinction we hold in high regard. We are honored by TMC's recognition of our diligence in providing next generation mobility solutions that meet the needs of today's empowered workforce - Rami Musallam
New York, NY (PRWEB) March 9, 2011
Thrupoint, a unified communications products company headquartered in New York, announced today that Technology Marketing Corporation (TMC®) has named Thrupoint's new FMC application, Ubiquity FMC Suite, as recipient of its 2010 Unified Communications magazine Product of the Year Award.
This award comes in the wake of Thrupoint's recent launch of its new Fixed Mobile Convergence Suite designed to enable enterprise mobility for its large Enterprise customers and Service Providers serving the SMB market.
The Ubiquity FMC Suite provides a Fixed-Mobile Convergence (FMC) solution that allows businesses to embrace their users' device of choice to connect to the enterprise via WiFi or carrier networks. In addition to iPhone and Android clients, Thrupoint's solution provides the industry's first SIP based client on BlackBerry devices leveraging our proprietary solution for ensuring QoS over a WiFi network, delivering one solution to extend corporate voice services in a uniform and consistent manner across multiple mobile platforms.
Thrupoint's Mobile Smart Client technology is designed to meet the needs of the contemporary empowered knowledge worker and nomadic workforce. Thrupoint's enterprise mobility clients integrate the mobile user into the corporate UC infrastructure providing access to features such as integrated web and video based collaboration, role based policies, advanced personal call routing.
The Ubiquity Mobility Gateway sits at the core of the network providing secure, certificate-based OTA provisioning of end user devices - ensuring the integrity and security of the information flow between the devices roaming on the public Internet over WiFi or the carrier's 3G/4G infrastructure. Because the Ubiquity Mobility Gateway integrates with existing PBX platforms from companies including Avaya/Nortel, Cisco, and Broadsoft, enterprise and Service Provider customers can extend familiar corporate UC features and a uniform appearance to mobile users whether in the office or on the road, even in multivendor environments.
"Receiving the UC Product of the Year award is a distinction we hold in high regard. We are honored by TMC's recognition of our diligence in providing next generation mobility solutions that meet the needs of today's empowered workforce," said Rami Musallam, CEO, Thrupoint. "We live in a time when technology advances at blinding speed and our ability to meet the needs of the market is pivotal to the success of our customers."
"Thrupoint's strongest asset is the culture it has built from within the company to work in concert with customers to address the needs of technology adoption in a manner consistent with promoting business value," said David Jodoin, CSO, Thrupoint. "In a world where legacy is defined as 18 months ago, communication and collaboration products can no longer be developed as individual applications using separate infrastructure. Thrupoint's products achieve true convergence across all end-points whether end users are communicating by voice, video, text, on Smartphones, computers, tablets or TVs."
"TMC is pleased to grant Thrupoint with a 2010 Product of the Year Award for its Ubiquity Fixed Mobile Convergence Suite. Thrupoint has proven its dedication to quality and excellence while supporting the needs in the marketplace," stated Rich Tehrani, CEO, TMC. "We look forward to seeing continued product announcements from Thrupoint in the future that address the needs of this complex market."
A complete list of Product of the Year Award winners is published in the April 2011 issue of Unified Communications magazine, http://www.uc-mag.com. For more information about TMC, please visit http://www.tmcnet.com.
About Thrupoint:
Thrupoint, Inc., is a leading provider of end-to-end unified communications, collaboration, and enterprise mobility products designed to meet the needs of the modern enterprise and telecommunication service providers. Thrupoint's products are designed to support the empowered knowledge worker and nomadic workforce. Thrupoint's products are developed on its award winning Ubiquity Service Broker technology - bringing true three-screen convergence, across iOS, Android and BlackBerry operating systems for the latest Smartphone, pad and tablet based devices.
Founded in 1996, Thrupoint is a privately held company with worldwide headquarters in New York, NY, with global headquarters throughout the world including UK, Middle East, and Africa.
For more information about Thrupoint, please visit http://www.thrupoint.com
About Unified Communications magazine
Launched in July 2007, Unified Communications magazine is devoted to educating enterprise decision makers on why and how they need to deploy unified communications (UC) solutions. Every issue of Unified Communications magazine features a comprehensive news section; case studies of successful deployments and lessons learned; interviews with leading hardware and software companies; and an 'industry' section, featuring analysis of important mergers and acquisition, partnerships and a Wall Street perspective on the unified communications market. Unified Communications has a readership of 100,000.
For more information, please visit http://www.uc-mag.com.
About TMC
Technology Marketing Corporation (TMC) is a global, integrated media company helping our clients build communities in print, in person and online. TMC publishes Customer Interaction Solutions, INTERNET TELEPHONY, Unified Communications, and NGN magazines. TMCnet, TMC's Web site, is the leading source of news and articles for the communications and technology industries. TMCnet is read by two million unique visitors each month on average worldwide, according to Webtrends. TMCnet has ranked within the top 3,500 in Quantcast's Top U.S. sites, placing TMCnet in the nation's top .03% most visited Web sites. In addition, TMC produces INTERNET TELEPHONY Conference & EXPO (ITEXPO); 4GWE Conference and M2M Evolution (in conjunction with Crossfire Media); Digium|Asterisk World (in conjunction with Digium); and Smart Grid Summit (in conjunction with Intelligent Communication Partners).
TMC also serves technology professionals with industry-specific Web sites: IT.TMCnet.com, 4G-wirelessevolution.TMCnet.com, M2M Evolution.com, Smart-Grid.TMCnet.com, Smart Products Ecosystem, Robotics.TMCnet.com, Cable.TMCnet.com, Satellite.TMCnet.com, Green.TMCnet.com, Healthcare.TMCnet.com, and Education.TMCnet.com.
For more information about TMC, visit http://www.tmcnet.com.
PR Contacts:
Thrupoint Contact:
David Jodoin
Chief Strategy Officer
Thrupoint, Inc.
Tel: +646-562-6000
TMC Contact:
Jan Pierret 203-852-6800, ext. 228
jpierret(at)tmcnet(dot)com
###