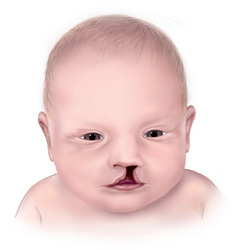 Women who take Topamax while pregnant are 21-times more likely to give birth to a child with a cleft palate or cleft lip, and may be at risk of other congenital birth defects.
Austin, TX (PRWEB) March 9, 2011
The families of children whose mothers took the drug Topamax or Topiragen during pregnancy and gave birth to a child with cleft palate, cleft lip, spina bifida or other limb and facial birth defects may be eligible to file a lawsuit, according to the law firm of Hissey Kientz, LLP. Topamax is prescribed for the treatment of seizure in patients with epilepsy or for migraines.
The Food and Drug Administration recently warned that women who take Topamax while pregnant are 21 times more likely to give birth to a child with a cleft palate, cleft lip or other craniofacial defects of the oral cavity when compared to the normal population. These children may also face an increased risk of spina bifida, genital birth defects, limb malformations, hypospadias, persistent pulmonary hypertension (PPH) and other genital and congenital birth defects.
Based on the increased risk of Topamax birth defects, the FDA upgraded the drug to "Pregnancy Category D," meaning that it has a proven risk of causing birth defects when taken during pregnancy. Because the oral cleft defects linked to Topamax occur early in pregnancy, the agency advised women of childbearing age who are taking the drug to discuss alternative treatment options with their doctors.
In March 2010, two Johnson & Johnson subsidiaries agreed to pay more than $81 million to settle Justice Department claims that they had illegally marketed Topamax for unapproved psychiatric uses, such as bipolar disorder, weight loss, alcohol dependency and other off-label conditions that were not approved by the FDA (US v. Ortho-McNeil Pharmaceutical LLC, 10-CR-10147). Whistleblower lawsuits have also alleged that doctors were paid to promote Topamax for symptoms other than seizures and migraines, for which it was approved. The companies also allegedly paid physicians who attended these meetings.
If you or a loved one took Topamax during pregnancy and gave birth to a child with oral cleft defects or other birth defects, contact the lawyers at Hissey Kientz, LLP to learn more about your legal rights. You can reach us by calling our toll-free hotline at 1-866-275-4454, or by visiting us online at http://www.hkllp.com/topamax.
About Hissey Kientz, LLP
Hissey Kientz, LLP represents the families of children harmed by Topamax, Paxil and anti-depressants including Prozac, Zoloft, Lexapro, Celexa, Effexor, Xanax or Wellbutrin, as well as the victims of DePuy hip replacements, Avandia side effects, mesothelioma and other asbestos-related diseases, Yaz and Yasmin birth control pills, as well as other defective drugs and medical devices. To learn more about the law firm and other drug cases, visit us online or call toll-free at (866) 275-4454.
###