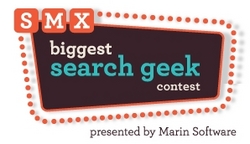 San Franicsco, CA (PRWEB) March 9, 2011
Marin Software, provider of the leading paid search management application for large advertisers and agencies, and SMX West, today announced that Seungbok Chung has been named "Biggest Search Geek" in the US and UK, beating out more than 1000 contestants to take home the top prize. Chung was recognized onstage today at SMX West by conference chair and Search Engine Land editor-in-chief, Danny Sullivan.
"I'm thrilled to be the newest search geek," said Chung, Senior Business Analyst, WebMetro. "I know that thousands of experts in the search marketing field compete in the contest every year and I'm honored to be selected by Marin Software and SMX as this year's winner. I look forward to taking part in the discussions and networking at SMX West."
With a top score of 82%, Chung handily beat out the competition, completing the contest in 16 minutes and 11 seconds. The Third Annual SMX Biggest Search Geek Contest sponsored by Marin Software was open to anyone with the mettle to answer 20 tough questions about the ins-and-outs of search marketing. This year the contest was opened to UK competitors for the first time.
Resources:
About the Biggest Search Geek Contest
About Marin Software
About SMX West
About Marin Software:
Marin Software provides an enterprise-class paid search management application for large advertisers and agencies. Marin Search Marketer®, designed for those spending at least $100,000 monthly on paid search, addresses the workflow, analysis, and optimization needs of large-scale advertisers and agencies, saving time and improving financial performance. Over 175 companies are running on Marin Software, including some of the world's largest interactive agencies and advertisers. Marin's clients manage over $850 million of annual paid search spend in the Marin Search Marketer application.
About Search Marketing Expo and Third Door Media:
The Search Marketing Expo - SMX conference series is produced by Third Door Media, Inc. Third Door Media's mission is to empower internet and search marketing professionals by providing trusted content and community services they need to be successful. Search Marketing Expo conferences are held around the world and include: SMX West (San Jose, CA), SMX East (New York City), SMX Advanced Seattle (Seattle, WA), SMX Advanced London (England), SMX Munich, SMX Sydney, and SMX Stockholm. See the complete list at http://searchmarketingexpo.com.
Third Door Media publishes Search Engine Land, the leading search marketing news and analysis site. The company also produces Search Marketing Now, a lead-generation marketing solution for suppliers of SEM-related products and services, and operates Sphinn.com, a social news site that allows search and internet marketers to share news stories, participate in subject-specific discussion forums, and build their professional networks.
# # #