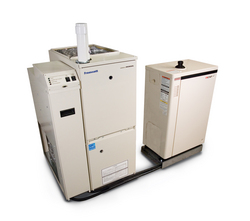 "By installing a freewatt system, the home's annual environmental impact can be reduced by up to 6,000 pounds* or more of greenhouse gases."
Utica, NY (PRWEB) March 9, 2011
The U.S. Environmental Protection Agency today awarded ECR International's freewatt® micro-combined heat and power system with the 2011 ENERGY STAR Emerging Technology Award. The award was presented to ECR International during a news conference at the Northeast Sustainable Energy Association's Building Energy Conference.
"ECR is honored to receive such a prestigious award from the EPA," said Karl Mayer, freewatt product manager. "We applaud the EPA's commitment to technologies like freewatt that have a positive impact on the environment and the future of home energy."
The freewatt system operates using micro-combined heat and power (microCHP) technology, which uses an ENERGY STAR-rated, high-efficiency gas furnace or boiler combined with a Honda engine/generator to produce heat, creating electric power as a byproduct.
The U.S. EPA's ENERGY STAR Emerging Technology Award is an annual award given to products that meet rigorous performance criteria in select categories each year. By recognizing innovative products that have the potential to significantly reduce greenhouse gas emissions, the award aims to advance promising technologies that may not yet meet key principles associated with categories eligible for the ENERGY STAR label or may be relatively more complex to properly install and operate. By raising the profile of products like freewatt, the EPA is helping to build demand so costs may be reduced and availability of these products broadened.
"By installing a freewatt system, the home's annual environmental impact can be reduced by up to 6,000 pounds* or more of greenhouse gases," said Mayer.
Operating at approximately 90 percent efficiency, freewatt also provides continuous, low-level heat without the temperature swings and cycling associated with a traditional heating system, creating constant comfort. Additionally, the freewatt plus system provides back-up power in the event a home loses power, such as during a bad winter storm or emergency.
To learn more about the freewatt system, please visit http://www.ecrinternational.com or http://www.freewatt.com.
*Based on a sample calculation for upstate New York. Assumes an annual heat load of 100 MMBtu (100 million British Thermal Units) and that the Honda MCHP operates 4,000 hours per year providing heat and generating power.
About ECR
ECR designs, manufactures and markets hydronic and HVAC equipment for residential, commercial, institutional, and hospitality markets. ECR currently operates manufacturing facilities in Utica and Dunkirk, N.Y., and distributes boilers, hydronic controls, furnaces, ductless air conditioning systems, vertical packaged air conditioners and heat pumps, and package terminal air conditioners under ten brand names.
# # #