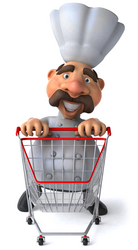 Some of my best memories are centered around simple home cooked meals shared with family and friends. Menus-N-More.com makes cooking at home easy and saves you time and money.
Palm Bay, FL (PRWEB) March 9, 2011
Menus-n-More.com eliminates the 'What is for dinner' dilemma that families face every day. The new website saves time, saves money and reduces impulse buying at the grocery store. With its chef-created menus, chef-tested recipes, and categorized shopping lists, Chef Don makes food shopping, menu planning and cooking at home easier than ever before. Chef Don explains his reason for creating the web site, "There are other sites available that allow people to create menus. But at my site, I do the work so my subscribers don't have to.
The recipes at Menus-n-More.com are all easy to prepare and most will be on the table in one hour. Each recipe has a photo of the finished product. Any recipes that need explaining have photos showing how-to preparation steps." Chef Don also provides his personal e-mail so subscribers can ask questions and receive answers about cooking and food preparation.
When asked if the recipes are gourmet, Chef Don replied, "The meals on the menus are not fancy, but they are delicious. The recipes are simple to follow. A subscriber can print them out or view them on their phone when they are at the grocery store. For less than the cost of a 'value meal' at a fast food restaurant, subscribers get chef-planned meals and recipes. Menus-N-More.com makes it convenient and easy to cook at home."
Chef Don is a trained chef located in Palm Bay, Florida. He has over 20 years experience in the food service industry. He has worked at hotels and upscale restaurants throughout his career. For more information about Chef Don or his subscription service, go to http://www.menus-n-more.com.
Contact:
Chef Don
http://www.menus-n-more.com
e-mail: chef(at)menus-n-more(dot)com
# # #