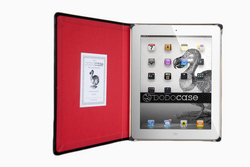 DODOcase is proud to offer quality, handmade cases, and we look forward to future success with the iPad 2.
San Francisco, CA (PRWEB) March 9, 2011
DODOcase announced today that their hotly anticipated iPad 2 cases are now available for purchase. The DODOcase for the iPad 2 comes in the classic DODOcase style, with a choice of eight color-linings, as well a special limited edition DODOcase commemorating the launch of the iPad 2, along with DODOcase's one-year anniversary.
DODOcase quickly rose to popularity following their launch alongside the iPad in April 2010. Overwhelming community response led to notable critical acclaim from such varied publications as GQ, Vogue, and Vanity Fair, and was eventually awarded MacWorld's 2010 case of the year. Handmade by local artisans in San Francisco using traditional bookbinding techniques, every DODOcase has its own unique character. The DODOcase team is thrilled to have given new life to the art of traditional bookbinding by adapting it to the world of e-readers.
"Only a year after launching DODOcase, the iPad 2 offers us yet another opportunity to continue our support and preservation of the few remaining bookbinders left in San Francisco," said Patrick Buckley, co founder and CEO of DODOcase. "We are proud to offer quality, handmade products, and look forward to future success with the iPad 2."
In keeping with the company's founding philosophy, DODOcase is offering individuals the opportunity to donate 10% of their iPad 2 case purchase. At the buyer's choice, and between March 9, 2011 and March 14, 2011, 10% of sales will be donated to SFMADE, San Francisco Center for the Book (SFCB), or Leukemia & Lymphoma Society, three DODOcase relevant non-profits.
"The DODOcase philosophy has always been about manufacturing local and keeping the art of book binding alive" added Craig Dalton, co founder and President of DODOcase. "We're ecstatic to have the opportunity to support that philosophy by offering some great local and national non-profits our support through individual's purchase of a DODOcase for the iPad 2!"
The DODOcase Classic for the iPad 2 is available with a choice of Red, Green, Charcoal, and Sky Blue lining for $59.95, or with a choice of Dark Blue, Orange, Pink, or Purple for $64.95. The Limited Edition DODOcase for the iPad 2 offers a design influenced by the iPad 2's incorporation of the white aesthetic and is available for $89.95 and for a limited time only. For immediate purchase of a case, or for more information, please visit: http://www.dodocase.com.
MEDIA INQUIRIES:
Abby Topolsky
415.602.0306
ABOUT DODOCASE:
The DODOcase philosophy is simple. Manufacture things locally and help keep the art of bookbinding alive, and off the extinction list where the namesake Dodo bird still resides, by adapting bookbinding techniques to a world of e-readers and iPads. Handmade and produced locally in San Francisco, CA by professional bookbinders, the DODOcase is characterized by unmatched style and quality that has won fans, from tech celebrities to the Hollywood set, the world over. The DODOcase launched day one with the iPad in April of 2010, and expanded to include a case for the Kindle 3 in November 2010. Most recently, DODOcase launched the BOOKback, a back that lends the feeling and familiarity of a book to your iPad or iPhone4. For more information, or to purchase a case, please visit the website at http://www.dodocase.com.
ABOUT SF MADE:
SFMade's mission is to build and support a vibrant manufacturing sector in San Francisco that sustains companies producing locally made products, encourages entrepreneurship and innovation, and creates employment opportunities for a diverse local workforce. SFMade is a 501(c)(3) California non-profit corporation. For more information please visit http://www.SFMade.org.
ABOUT SFCB:
San Francisco Center for the Book (SFCB) is a place to learn about the many arts and crafts of the book. Through workshops, exhibitions and public events, SFCB promotes both knowledge of traditional book arts and exploration of experimental book forms. For more information please visit http://www.sfcb.org.
ABOUT LEUKEMIA & LYMPHOMA SOCIETY:
The Leukemia & Lymphoma Society's (LLS) mission is to: Cure leukemia, lymphoma, Hodgkin's disease and myeloma, and improve the quality of life of patients and their families. LLS is the world's largest voluntary health agency dedicated to blood cancer. LLS funds lifesaving blood cancer research around the world and provides free information and support services. For more information please visit http://www.lls.org.
###