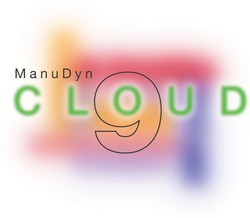 Our vision was to provide a truly cost-effective alternative to traditional ERP and MRP-2 solutions, by not only providing outstanding, easy-to-use functionality in a SaaS model, but to incorporate the freedom and flexibility of the new Apple iPad2
Miami, FL (PRWEB) March 15, 2011
ManuDynUSA today announced the release of ManuDynTM Cloud 9 a SaaS solution that eliminates the need to purchase expensive computer servers, hire an internal IT staff, schedule backups, manage software upgrades or invest weeks or even months in costly implementations. Using a browser-based SaaS approach, ManuDyn Cloud 9 is the first low-cost manufacturing solution that also integrates the new Apple iPad2 and other tablet PCs to provide operators, supervisors and management real-time information with unparalleled access.
Because the solution is provided as a service via the internet, all applications, queries, management reports, approval functions and shop floor operations are now easily accessed through the new Apple iPad2 using a wireless network or 3G/4G data service. Utilizing the estimated 10-hour battery life, new lighter weight and two-way, built-in video conferencing capability, users can now review and actually see operations or review quality issues on the shop floor from around the corner or around the world.
Never before have small to medium-size manufacturers had the cost effectiveness and total freedom to manage important decisions and plant operations with the complete flexibility that can only be provided with ManuDyn Cloud 9 and the new Apple iPad2. In addition to lower on-going costs, ManuDyn Cloud 9 offers faster implementation and training, secured hosting services with scheduled backups of important data, seamless upgrades and a Cloud computing environment that adjusts to your computing needs as you grow.
Supporting Quote
"Many manufacturers continue to run their shop floor operations without the use of optimized software solutions primarily because of cost concerns. This is aside from the challenges of complexity and end user difficulty already a major problem in the market. Our vision was to provide a truly cost-effective alternative to traditional ERP and MRP-2 solutions, by not only providing outstanding, easy-to-use functionality in a SaaS model, but to incorporate the freedom and flexibility of the new Apple iPad2 and other tablet PCs to literally change the way job shop manufacturers operate. ManuDyn Cloud 9 takes manufacturing to a totally new level by combining ease of use, power, lower cost and exciting tablet technology to increase productivity while expanding new and better ways to manage manufacturing decisions", said Jim Roach, president and chief executive officer of parent company, Manufacturing Software Pty Ltd.
About ManuDynUSA
ManuDynUSA is a wholly owned subsidiary of Manufacturing Software Pty Ltd. based in Kirrawee, New South Wales, Australia (Manusoft). A leader in providing optimized solutions for Job Shop Manufacturing environments, ManuDynUSA and the parent company Manusoft, offer a unique combination of a browser-based, SaaS environment for manufacturers that eliminates the need for expensive servers, internal IT staffs and costly implementations.
Trademarks
ManuDynTM Cloud 9 is a trademark of Manufacturing Software U.S.A, Inc.
iPadTM 2 is a trademark of Apple, Inc.
# # #