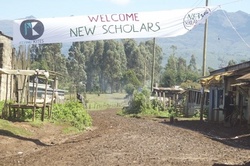 The New Scholars entrepreneurs are leading the charge for their countries and we're honored to support them in doing so.
Cupertino, Calif. (PRWEB) March 10, 2011
New Scholars, a social venture focused on empowering an entrepreneurial Africa, has announced the five winners from its Entrepreneurial Safari. The five entrepreneurs now enter a formal incubation process with New Scholars, which will help evolve their proposals into successful businesses in Southern Sudan and Kenya.
The winners were selected from a pool of thirty-six entrepreneurs who participated in the New Scholars Entrepreneurial Safari in Kenya in December 2010. During the two-week bootcamp, African entrepreneurs eager for guidance and feedback on their business ideas collaborated daily with Kenyan and Silicon Valley professionals who served as mentors, imparting best practices for entrepreneurial success.
"This is an extremely exciting time for Africa and New Scholars," said Garang Akau, co-founder of New Scholars and one of the original "Lost Boys of Sudan," featured in the film of the same name. "The pending independence for Southern Sudan opens up possibilities for so many of us who have dreams of building the future of our country. With today's announcement, we know we've indentified five individuals who possess the leadership qualities and drive required of entrepreneurs; they are excellent role models for the African communities where they will build their businesses," said Akau.
The five winners include three Sudanese "Lost Boys" and two Kenyans. Their proposed businesses will serve the vast needs of and provide jobs to communities in Southern Sudan and Kenya, and focus on agriculture, real estate, sustainable energy, identity verification, and laundry services.
"Africa is rich in resources, but in great need of basic infrastructure and entrepreneurial mentorship," said Darius Golkar, co-founder, New Scholars and serial entrepreneur. "Among the winning business proposals, we'll incubate ideas for a sustainable briquette for cooking that is kinder to the environment and a laundry service in Bor, Sudan where washing clothes is risky due to crocodile attacks along Nile, and costly as people will ship clothes 100+ miles for cleaning. These business ideas may seem rudimentary to much of the western world, but they serve real, immediate needs in Southern Sudan and Kenya. The New Scholars entrepreneurs are leading the charge for their countries and we're honored to support them in doing so."
Please visit this link to view a video from the Entrepreneurial Safari. http://www.youtube.com/watch?v=n4O_jtrelyA
As part of the incubation process, the five New Scholars entrepreneurs will benefit from financial and strategic support. The next Entrepreneurial Safari takes place in Kenya in August 2011.
The Five New Scholars Entrepreneurs
Nicodemus Ajak Bior: Male, 28, Sudanese "Lost Boy"
Born in South Sudan. Fled home at age seven and walked for three months in the forest surviving on wild fruits and rats before reaching Kakuma refugee camp in Northwest Kenya where he spent most of his life. He worked for USAID and co-founded the largest Sudanese youth organization responsible for the January 2011 referendum events. He studies Mass Communications & Marketing at Day Star University in Nairobi, Kenya.
Business: Agriculture
Greenhouse vegetable farming (most likely tomatoes) in Southern Sudan. Fruits and vegetables are currently imported from Uganda and Kenya, which increases cost and decreases quality.
Diang'a Humphrey: Male, 25, Kenyan (Ugandan decent)
Born in Kenya to a family that fled Ugandan conflict (grandfather almost died while escaping on a boat). Father lost everything at 30 and had to remake himself. He is a self-made entrepreneur putting himself through university with the money he makes from a successful cyber cafe.
Business: Sustainable Energy
Briquette production using sustainable supply of raw materials. Goal is to provide the common base of the pyramid family with cheaper, more environmentally sensitive, source of energy than the wood charcoal they currently rely on.
Jok Gai: Male, 30, Sudanese "Lost Boy"
Born in South Sudan, Jok's family was killed when he was 9, forcing him to flee. He attended a military training school until he was twelve, when he ran away to the Kakuma refugee camp. At 25 he was awarded a scholarship to the University of Victoria in Canada where he is currently finishing his electrical engineering degree. He plans to relocate to Southern Sudan this year.
Business: Real Estate
Development company in Southern Sudan providing housing for returning members of the diaspora and individuals/families looking to own a home.
David Nyaga: Male, 27, Kenyan
David was born into a poor Kenyan family. He developed a passion for technology at a young age and created the first ever Kiswahili dictionary/translator for the computer. In 2008 he was forced to drop out of college when his family lost its business during post election violence. While under curfew (20 hrs/day), David decided to learn mobile application programming and start his own company. He is now back in school finishing a Math and Economics degree and refining his prototype.
Business: Document Verification & Due Diligence Services
Forgery is a big problem in East Africa. This business has created a scalable mobile technology that verifies certificates, credentials, title deeds and various other legal documents in seconds and for a fraction of the cost.
Riak Ajak Panther: Male, 24, Sudanese "Lost Boy"
The youngest New Scholar, Panther was orphaned at twelve after witnessing the deaths of his mother and brother and kidnapping of his sister. For three months he fled on foot until he reached Kakuma where he started a business selling mosquito nets, salt and sugar. He invested the profits in cattle and managed to create enough wealth to support his family and pay tuition for university in Kenya.
Business: Laundry Services
Will open a laundry in Bor, Sudan where washing clothes is risky (crocodile attacks along Nile), costly (shipping clothes 100+ miles), or inefficient (fetching valuable water on foot from a well).
About New Scholars
New Scholars is a 501c3 social venture focused on empowering an entrepreneurial Africa. Founded by Garang Akau, one of the original "Lost Boys of Sudan," and entrepreneur, Darius Golkar, New Scholars bridges the gap between Silicon Valley and emerging markets in Africa, bringing mentorship and an incubation model to entrepreneurs with innovations and business ideas in Southern Sudan and Kenya. New Scholars strives to be a catalyst that allows young entrepreneurial energy to result in measurable economic empowerment and opportunities for African youth in Southern Sudan and Kenya. Visit us at http://www.newscholars.net.
# # #