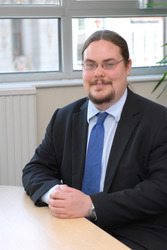 ICM ETS processes have been designed from the ground up to meet the needs of the aviation industry
(PRWeb UK) March 10, 2011
ICM ETS Ltd, part of the ICM Group based in the Isle of Man, has been Accredited for the verification of aircraft emissions and tonne-km data under the EU Emissions Trading Scheme.
"The route to final Accreditation has been a long one as we formed our procedures from the ground up with Aircraft operators in mind," director Chris Blake. "We have now completed the rigorous and in-depth processes of accreditation, which is a significant step for ICM ETS and we are very pleased to have received this confirmation."
In January Mr Blake and ICM ETS technical manager Neil Duffy travelled to Zurich where they carried out a GHG verification for G5 Executive, which was observed by UKAS as part of their assessment process. G5 Executive is a commercial airline that currently operates various business aircraft.
"The audit itself went without issue," said Mr Duffy. "We appreciate that the EU ETS can be viewed as a headache by the industry and at ICM ETS we look to make the process as smooth as possible."
He added: "As a company with an established reputation in the aviation sector, our ICM ETS processes have been designed from the ground up to meet the needs of the aviation industry, and achieving this Accreditation demonstrates our ability to deliver emission verification services which meet the requirements of the regulators."
For small emitters, ICM ETS can verify using the ETS Support Facility a system offered by Eurocontrol which records the aircraft type, the actual distance flown on each flight and, through the Small Emitters Tool (which has already been approved by the European Commission), an estimate for C02 for each flight. Eurocontrol charges 400 euros for access to the system.
"While 400 euros sounds like a lot of money for information which can be (and usually is being) gathered in-house, it does make the internal control processes less onerous, which allows us to simplify the verification process and, as such, we reduce our fees to reflect this," said Mr Duffy.
He continues: "While this Accreditation only applies to operators assigned to the UK for ETS compliance, many other member states recognise this, allowing us to verify operators assigned to many other countries."
ICM ETS Ltd has its offices overlooking the business jet apron and runway at Stansted Airport. The ICM Group has offered aircraft importation and exportation into the EU as well as ownership structures and other corporate services to the aviation sector for many years through its subsidiary company, Martyn Fiddler Associates Ltd and Inter-Continental Management Ltd.
# # #