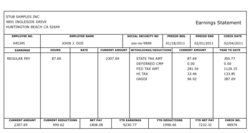 For someone that needs a pay stub now, waiting is not an option.
Decatur, GA (PRWEB) March 9, 2011
StubSamples.com, the first do-it-yourself paycheck stub sample service, recently announced the completion of its new website. Created for self-employed individuals, the website allows users to enter basic employer and employee information before instantly generating the final stub. With no waiting and no software to download, the "try before you buy" service has customers raving.
The brainchild of Costello Marks, a former tax adviser and longtime payroll administrator, the website allows individuals the flexibility of having a sample pay stub whenever they need it.
"A lot of our clients are self-employed and although they make transfers from their company to themselves, they don't generate pay stubs to do so. We wanted a service that these clients could use to report their earnings if and when needed," stated Marks. The stub service appears to fit the bill.
In using the service based on our verified earnings, the StubSamples.com system was off by less than $4 when calculating our total deductions, and all information was correct in regards to our earnings.
"Existing resources were either too complex or required the customer to wait to have it mailed. For someone that needs a pay stub now, waiting is not an option. To this end, the website was specifically designed to be more useful by individuals and businesses that require an earning statement quickly" said Marks.
The easy to use service is impressive to say the least. The quality of the sample ordered was made available for download immediately after purchase and was of very high quality. The cost of the service is minimal as well, being offered at $12.95 at the time of this release.
###