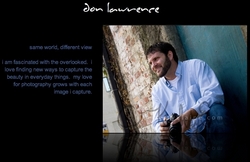 same world, different view
Dayton, OH (PRWEB) March 11, 2011
"My love for photography grows with each image I capture." – Don Lawrence
Business for photographer Don Lawrence has grown dramatically over the past year. Just over a year ago, he started taking pictures on his phone, moved to a "point and shoot camera," and is now set up as a professional photographer. Recently don lawrence photography became a limited liability company.
Mr. Lawrence has experience in all types of photography; from family portraits, senior pictures and weddings, to an incredible collection of fine art photographs. What you see in Mr. Lawrence's fine art gallery are not your typical photographs. His photography is unique. He enjoys capturing every day images from a different view.
On March 19, 2011 several photographs by Don Lawrence will be featured in an art show at the Eye Candy Art Studio, Dayton, Ohio. Mr. Lawrence will be the sole photographer in the "same wold, different view" art show also in Dayton, on May 28, 2011 at the Eye Candy Art Studio
To view photos by Don Lawrence Photography, LLC, visit: http://www.donlawrence.me, donlawrence.purephoto.com or http://www.facebook.com/donlawrence.me.
Contact Information:
Don Lawrence
937-760-7305
ddlawrence(at)me(dot)com
# # #