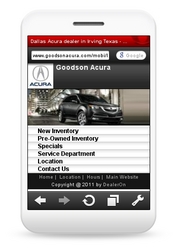 Rockville, MD (PRWEB) March 15, 2011
DealerOn announces that they have upgraded their car dealer mobile website platform to increase dealers' lead volumes. Through Google Analytics, DealerOn has now documented that their mobile websites increase click through rates and improve bounce rates. This is critically important, as mobile traffic as a percentage of total car dealer website traffic has more than doubled over the last year.
DealerOn's auto dealer website customers are seeing 10-15% of their website traffic coming from mobile devices. This is more than double the traffic volumes from a year ago. Mobile Internet usage is expected to increase by 30% each year for the next several years. Within a few years the majority of a car dealer's website traffic may come from mobile sources (smartphones, PDAs, tablet computers).
Google CEO, Eric Schmidt, recently stated that 78% of smartphone owners use their phones while shopping. Additionally, Microsoft has reported that 53% of mobile phone searches on Bing have local intent means. Together, these figures strongly indicate that auto dealers need to cater to mobile searchers to see an increase in traffic and leads from mobile website visitors.
DealerOn's mobile site technology detects when auto dealer mobile website visitors are using a cell phone or a PDA, and shows these web visitors a specially designed mobile site. The DealerOn mobile product displays a car dealer's inventory and departmental information to a mobile user in a streamlined, easy-to-read format tailored to the size and resolution of a mobile device. The focus of the DealerOn mobile site is to provide dealership customers the information they are looking for, as quickly as possible.
Google ranks mobile sites in a separate search engine index. Because of the lower number of mobile sites currently online, it is easier to get a car dealer mobile site to rank well than it is for a new, traditional website. Google uses site age as a ranking factor, so the sooner car dealerships get online with a mobile site, the better.
Mobile auto dealer sites are a critical part of today's comprehensive online marketing plans. Mobile sites are included as a part of the DealerOn traditional car dealer website package.
About DealerOn:
DealerOn specializes in car dealer websites and interactive online marketing for car dealerships. DealerOn's mission is to help our customers sell the most cars as profitably as possible. We do this by maximizing the volume and quality of their lead generation efforts.
# # #