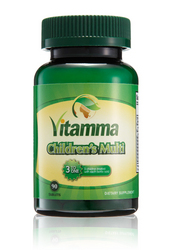 Vitamma's social goal focuses on the elimination of vitamin A deficiency, an issue affecting an estimated 190 million young children worldwide.
Old Saybrook, CT (PRWEB) March 10, 2011
Last month, Vitamma.com joined the wave of social ventures aimed at generating positive change with the launch of its new website and line of high-quality multivitamins. As part of the company's mission, Vitamma has partnered with renowned Santa Barbara non-profit, Vitamin Angels, to reach undernourished children around the world with high-potency doses of vitamin A. For each bottle sold through the site, the company plans to reach three children with two years' worth of the key nutrient – an objective dubbed "3TO1". Additionally, during the month of March, Vitamma is offering customers a chance to pitch in without spending a dime. Each additional Facebook "Like" and Twitter follower of Vitamma will be providing a year's worth of vitamin A to a child in need.
The launch of Vitamma.com brings with it four specially formulated, once-daily multivitamins: a women's multivitamin, a prenatal vitamin, a children's chewable and a men's multivitamin. All four supplements have been designed and developed to address the unique health needs of its intended demographic and are sold exclusively through Vitamma.com. "We see our products as a vehicle for linking the health of our customers with that of children the world over," says the company's founder, Zack Adams. "With the help of Vitamin Angels, we're giving our customers the chance to make an impact on global health while simply improving their own".
Vitamma's social goal focuses on the elimination of vitamin A deficiency, an issue affecting an estimated 190 million young children worldwide. With vitamin A playing a critical role in immune system and eyesight development among children under five, the deficiency leaves those affected exposed to life-threatening diseases and potential blindness. According to the World Health Organization, as many as 500,000 vitamin A deficient children go blind each year, half dying within 12 months of losing their site.
Fortunately, vitamin A supplementation has had a proven and profound impact on the problem, reducing under-five mortality from all causes by 23% in areas treated. With just two high-potency doses a year, a child is armed with enough vitamin A to enable their young immune system to fight infectious disease. As a result of these measures, VAD has been widely identified as one of the most solvable global health problems and one where investment yields the most impressive results.
Having reached over 24 million children with vitamin A in 2010 alone, Vitamin Angels acts as Vitamma's trusted partner in the field. "No group could be a more prepared, effective and passionate partner in bringing our concept to reality," claims the company's website. Through their multivitamins and 3TO1 campaign Vitamma hopes to help the charity achieve its goal of reaching 50 million children in the next 3-5 years.
For more information or to order, visit Vitamma.com.
About Vitamin Angels
Vitamin Angels is dedicated to reducing child mortality worldwide by advancing availability, access and use of essential micronutrients, especially Vitamin A, to newborns, infants and children under five. In 2010, Vitamin Angels connected over 24,000,000 children in 43 countries, including the US, with the vital nutrients they need as a foundation for good health. To learn more about global malnutrition, micronutrient deficiencies, and Vitamin Angels' solution for change, visit VitaminAngels.org.
###