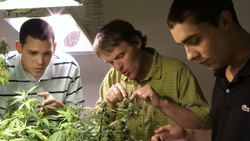 Walled Lake, MI (PRWEB) March 10, 2011
Michigan's premier medical marijuana school comes to Arizona.
The Medical Marijuana Academy to host seminars in Tempe April 8 -- April 10 and May 13 -- May 15
As the state prepares to implement the provisions of Prop 203, some Arizonans are preparing to venture into a budding new industry, others suffering from serious ailments are wondering if medical marijuana could be right for them and many more are simply concerned about the new law's implications.
In a climate of so much uncertainty, proper education is critical to creating a system that is operated responsibly and managed professionally.
After rapidly becoming the foremost authority on medical marijuana in Michigan, the Medical Marijuana Academy will host two three-day seminars in Arizona to cover everything residents need to know to take advantage of new opportunities in a rapidly expanding market or simply gain clarity on a complex issue. The seminars will take place in Downtown Tempe on April 8 through April 10 and May 13 through May 15.
The Arizona Department of Health Services is expected to publish its final draft of rules to govern the state's medical marijuana system on March 28 and will begin accepting applications for patients and caregivers in April. During the seminars an Arizona attorney specializing in the field will explain the complexities of the state laws.
The credentials and experience of the MMA's team of instructors sets a new standard in medical marijuana education. Subject experts will cover the full range of industry topics including: Cultivation, accounting, security, medicine, bud tending and edibles.
Professor of Horticulture Todd Alton graduated from Northern Michigan University with a B.S. in Botany and is a former executive chef.
"The whole focus is on business ethics and responsibility," Alton said. "People want to do this right but it's easy to be in violation of the law if you do not understand it."
About 30 percent of the academy's graduates start new jobs in the industry and many others gain additional business through opportunities related to their current profession, MMA Founder and President Derek Norman said. "The networking possibilities are truly endless."
Everyone from electricians to real estate agents have taken seminars to see what opportunities the sprouting medical marijuana industry can offer and many meet fellow students in need of their services, Norman said. The academy teaches professionals how to work with clients in the medical marijuana industry legally and responsibly.
"From the credentials of our professors to our ethics as an institution, we promote everything to be 100 percent above board and portray this professionally, because that's how we think it should be viewed in the community," Alton said. The academy's staff remains available for free consultation for a year after a student graduates from the weekend seminar.
"We believe Arizona needs education, a lot of people are confused and we can show them where everything stands," Norman said. "We would like to be the premier medical marijuana school in the nation; we are so far in Michigan."
Several locations are being considered and a conference center in Tempe will be booked based on the number of registered students.
To register for a three day seminar ($495) you may do so online at http://www.medicalmarijuanaacademy.com or by calling 888-487-0005 .
About the Medical Marijuana Academy
In less than a year the MMA has graduated more than 1,000 students and served as a major economic stimulus for the state of Michigan. The academy has been the subject of state and national news for its success in creating jobs for residents who are in need of new careers. The academy pairs graduates seeking to be caregivers with eligible patients and has created new jobs that generate a full time income for 30 percent of its students.
People from all over the country have traveled to Michigan to take advantage of the academy's program. A Medical Marijuana Academy diploma has become a paramount designation of credibility sought by patients in search of quality medicine and professional service.
For more information go to: http://www.medicalmarijuanaacademy.com/
Derek Norman
President of the Medical Marijuana Academy
Phone: 888-487-0005
E-mail: Derek(at)medicalmarijuanaacademy(dot)com
###