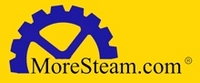 Lewis Center, OH (PRWEB) March 11, 2011
MoreSteam.com (http://www.moresteam.com), the leading global provider of online Lean Six Sigma (LSS) training and Blended Learning support technologies, proudly recognizes and congratulates customer Nationwide Mutual Insurance Co. on its recognition as the "Most Successful Lean Six Sigma Start-up Program" at the iSixSigma Live! Miami 2011 Summit and Awards. Since Nationwide's On Your Side® Continuous Improvement program kicked off in January 2010, MoreSteam has supported their exceptional efforts through a collection of advanced and interconnected online training courses and support technologies.
Since 2009, iSixSigma Magazine and iSixSigma.com have sponsored an annual awards competition that recognizes the most successful Six Sigma programs and projects of the year. To be considered for an award, companies must show remarkable Lean Six Sigma results. Nationwide easily fulfilled the requirements for the "Most Successful Lean Six Sigma Start-up Program" award, which included starting on or after Jan. 1, 2009, generating a minimum return on investment (ROI) of 5x, and representing a corporate-wide Lean Six Sigma initiative aligned with senior leadership's intent and goals.
Another factor that weighed in Nationwide's favor was having put in place solid training programs, deployment plans, selection processes and recognition systems. To implement this deployment foundation as quickly as possible, Nationwide turned to MoreSteam.com. Within days, MoreSteam set up and customized an entire curriculum of online Lean Six Sigma training courses, from Champion to Black Belt to Design for Six Sigma (DFSS). MoreSteam also provided the new deployment with Crucible®, an online Belt testing module, EngineRoom®, a Microsoft® Excel®-based statistical analysis tool, and SigmaBrew DMAIC® and SigmaBrew InBox®, two online simulations for classroom practice. Since the program kicked off in January 2010, Nationwide has used their Blended Learning program - a combination of online and face-to-face training tools - to educate more than 1,300 associates in Continuous Improvement training.
As an ambitious, aggressively growing deployment, Nationwide was also concerned with the complicated job of selecting, tracking and managing the nearly 600 projects identified by their associates. Nationwide again turned to MoreSteam, this time for TRACtion, MoreSteam's online project tracking and management tool. TRACtion provided the transparency and financial reporting tools that Nationwide management needed to assess and adjust their progress. The associates benefitted from the customized interface, the direct linkage between project progress and the online training, and the notification and accountability tools featured in TRACtion. Nationwide expects that their existing and completed continuous improvement projects will improve the customer's experience and forecasts a 20X return on investment.
"This award is truly an honor for Nationwide and its associates, who are using the tools and techniques learned from the program to improve our customer's experience" says Rachel Lane, associate vice president, Business Excellence, Center of Excellence and OSU COE board member. "Our non-traditional model was built to align with Nationwide's culture and support our strategy. We selected a Blended Learning model with tiered curriculum for each audience, from intense tool training for Black Belts to sponsor training for managers."
"Nationwide certainly deserved this iSixSigma Live! award," noted MoreSteam.com's President, Bill Hathaway. "In the short period since they began their impressive program, they've made great strides in terms of infrastructure and education. With the challenges of a widely dispersed employee base and a need to train and track so many students, their embrace of technology was a natural and appropriate fit. MoreSteam is proud of our role in supporting their success."
About MoreSteam.com
MoreSteam.com (http://www.moresteam.com)is the leading global provider of online Lean Six Sigma training and Blended Learning technology, serving over 1,800 corporate clients and over 45% of the Fortune 500 with a full suite of Lean Six Sigma e-Learning courses, EngineRoom® data analysis software, TRACtion® online project tracking software, CrucibleTM online testing, and SigmaSim® online DMAIC simulations and games. MoreSteam.com was launched in the year 2000 in response to the high cost of traditional Six Sigma training and tools, and has now trained over 250,000 Lean Six Sigma professionals. MoreSteam's mission is to enable people to advance the performance of their organizations by delivering powerful tools for process improvement to the widest possible audience at the lowest price available.
###