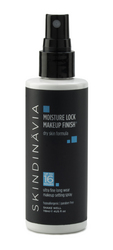 "We developed Moisture Lock for women with drier skin types looking for a dewy, luminous finish. This launch parallels the introduction of our new sleek, black design, bringing us back to our to our roots on stage and set," explains Allen Goldman, CEO.
Boston, MA (PRWEB) March 10, 2011
Skindinävia, the creator of makeup finishing sprays designed to extend makeup wear, announces the launch of Moisture Lock Makeup Finish™ this Spring 2011, to coincide with the company's brand new look and website, to be found at Skindinavia.com. Moisture Lock™ is the first makeup setting spray designed for drier skin types. It is especially formulated to work with your existing moisturizer to keep hydration from escaping through the makeup surface.
Moisture Lock™ is a unique and easily absorbed super-hydrating setting spray that keeps the makeup surface moist and dewy. The long-lasting finish holds makeup for up to 16 hours of touch-up free wear. It goes beyond keeping your makeup on to actually reviving dull makeup – finishing it with a youthful finish. It creates a barrier with your existing moisturizer that keeps foundations and powders from drying out skin and settling into fine lines and wrinkles.
Moisture Lock Makeup Finish™ uses a proprietary blend of four moisturizers that are delivered through a patent-pending encapsulation technology. This unique technology is time released so moisturizers work throughout the day providing consistent hydration levels to the makeup surface… morning, afternoon and evening. Available in 2 fl. oz./59ml ($19.00), 4 fl. oz. 118ml ($29.00) and 8 fl. oz. /236ml ($39.00).
Features and Benefits:

The first setting spray formulated for drier skin types.
Holds makeup for up to 16 hours.
Creates a dewy finish on the makeup surface.
Helps prevent moisture from escaping through the makeup surface.
Works well with any foundation and moisturizer.
Patent-pending technology.
Lightweight, breathable, hypoallergenic and oil- and fragrance-free.
Made in the USA. Not tested on animals.
ABOUT SKINDINAVIA:
Skindinavia was founded in 2005 with the sole purpose of creating products that would keep makeup looking fresher. Our revolutionary Makeup Finishing Spray concept was launched in 2007 and originally used on movie sets in Hollywood, so makeup artists could have fewer touch-ups throughout long days of filming. After being featured on NBC's Today Show as a "genius product," we introduced the concept of the "makeup finish," the first makeup setting sprays made for individual skin types.
###