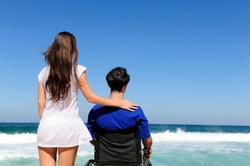 "It changed the way I look at matchmaking. It changed what I wanted to do in terms of making a difference for single people," Robbins said to CBS Miami's Jorge Estevez.
Fort Lauderdale, FL (PRWEB) March 10, 2011
Matchmaker Ann Robbins knew it would be a challenge when Cheryl, in a wheelchair since birth due to a spinal cord injury, approached her for matchmaking. Realizing the potential difficulty in matching Cheryl with her clients, she decided to make it her mission to help singles with disabilities find love. "Their willingness to date a person in a wheelchair was a question to me. I did not know how easy or difficult it would be, but I knew it would be a challenge," said Robbins, Founder of http://www.edateability.com.
CBS Miami learned of the dating site and contacted Robbins for an interview.
"It's important to never give up", says Robbins. "Everyone has something unique and wonderful to offer. We all have gifts to give", she adds.
To help her members find their soulmate, Robbins has added some unique features to the online dating site. Members can get one-on-one help with their profile, schedule an interview with the matchmaker, receive life coaching, date and relationship coaching, as well submit questions to "Ask the Coach" via email. Answers are posted weekly on the site's blog.
"I have a strong belief that everyone is dateable, and that there is someone out there for every single", Robbins says. "It's a question of finding that special someone". The site, which now has nearly 4,000 members, offers women free online dating for 30 days.
Ann Robbins, CEO of LifeWorks Matchmaking is a Certified Professional Matchmaker and a Master Certified Relationship Coach providing personal matchmaking services, relationship and date coaching to singles. eDateAbility.com offers online dating, relationship coaching and career and life coaching to help disabled singles find love, romance, and friendship.
###