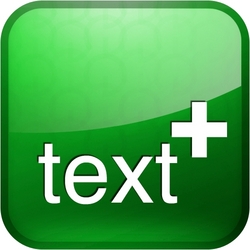 Los Angeles, CA (PRWEB) March 9, 2011
Mobile social messaging application textPlus reports fast-growth user numbers today, proving consumers want a richer, more social messaging experience than traditional texting. Known first for introducing free group texting to the world in June 2009, textPlus has watched its user numbers spike with each new social feature it adds, including topical chatrooms, personalized profiles, people search and photo sharing. The app's most recent metrics include:

7.7 million monthly active users
14 million total app downloads
33 million messages sent daily
7.3 billion messages sent since launch
100k new users every day
36 million total users in the textPlus network, including SMS users
191% quarter-over-quarter user growth Q410 v Q409
55 minutes, on average, spent in the textPlus app per day
36th all-time most popular free app in the iTunes App Store
Parent company GOGII now boasts a full-time headcount of 42 staffers
And in all, the company has raised in $28.3M investment, including last month's Series C
"There's a lot of excitement about group messaging right now," said investor Mark Suster of GRP Partners, who led GOGII's Series C funding round last month. "The team at GOGII is most excited because in the nearly two years since launching textPlus, they've grown the category's largest active user base by an order of magnitude, and have already begun developing their next chapter in mobile social messaging. Stay tuned."
textPlus is the only app that allows people to text in topic-driven Community chat groups, as well as in free one-to-one and group conversations. With its photo-sharing, people search and personalization features, textPlus has increasingly layered in social elements to traditional texting to remarkable public response. The app is available for download on the iPhone, iPod touch, iPad and Android, and works across all carriers on any mobile device that sends and receives SMS messages.
The textPlus team will be out in force at Austin's SXSW Interactive Festival this week, kicking off its Groups4Good charity fundraising campaign, and offering a glimpse of what the company has in store next.
About GOGII
GOGII (go-jee) is a mobile communications technology company and creator of the textPlus app. GOGII is a U.S.-based startup backed by venture capital firms Kleiner Perkins Caufield & Byers, Matrix Partners and GRP Partners. GOGII was founded in 2007 by the three founders of JAMDAT Mobile, the leading mobile entertainment publisher that was acquired by Electronic Arts in 2006. The company is committed to the safety, security and privacy of its users.
About textPlus
textPlus brings free, ad-supported real, group and Community texting to the iPad, iPhone, iPod touch and Android phones through its mobile application, permanent short code, 60611 and real phone numbers. textPlus is carrier and Mobile Marketing Association (MMA) compliant and enables seamless interaction between app users and their friends using regular text messaging (SMS).
###