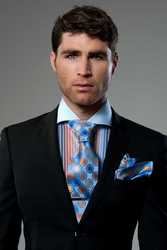 Setting the trend since 1991
Culver City, CA (PRWEB) March 10, 2011
Steven Land has emerged as a top designer of men's accessories such as ties, cuff links and his high quality shirt collection. Land has come a long way from his humble beginnings as a struggling designer trying to make it in the melting pot of fashion, New York City. This year marks the 20th Anniversary of the designer and what better way to celebrate then with the introduction of new products that are sure to be must haves in any fashion forward man's wardrobe.
The latest innovative design by Steven Land is the "Hi Density" Tie. The Hi Density is made of heavy, quality English inspired fabrics at an amazing 140 picks per inch. It has classic European sensibility with added Steven Land swagger. The Hi Density was all the rage at the February 2011 MAGIC Marketplace.
SLNY is Steven Land's answer to the latest trends in young men's contemporary neckwear. SLNY is a unique interpretation that will deliver slender, clean neckwear in a multitude of colors, fabrics and styles.
Steven Land continues its successful partnership with Swarovski and its crystallized collection. The Swarovski crystals are placed on the ties to add more elegance and appeal to an accessory that may have once been considered unexciting.
Steven Land maintains a tradition of high quality neckwear manufacturing that will insure his success for many years to come.
For media inquiries please contact Keith L. Underwood of UMA Worldwide at 323.298.0929 or by email at keith(at)umaworldwide(dot)com. For more information on Steven Land Neckwear please visit them on the web at http://www.stevenland.com.
###