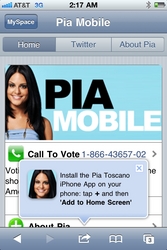 "Six Uniquely Valuable Patent-Pending Features including One Click-One Vote for your next American Idol makes this the most powerful mobile phone website and iPhone App on the Internet.
Dallas, Texas (PRWEB) March 11, 2011
There have been one billion downloads of Apps for iPhones. Last week over 44 million fans called in their votes on American Idol--they all had to dial eleven digits each time, over and over again. There are over 200 million Twitter accounts and over 200 million Facebook users now access their personal websites through the web through mobile phones but no one has combined both in a mobile phone fan website for once click access in once place until now.
Pia Online combines a mobile phone website for American Idol fans that converts into an iPhone App and maximizes the power of Apple, American Idol, Twitter and Facebook by combining core value propositions of each into an easy to use mobile website and iPhone App.
The fans of Pia Online have launched the first of 13 American Idol fan mobile websites. The fan mobile website offers six uniquely valuable patent-pending features to access and/or vote for their favorite idol with "One Click", removing the necessity to redial eleven digits over and over again.
One Click-One Vote. First and foremost, this mobile website/iPhone App uses the utility of the mobile phone and a mobile website to allow fans can access her mobile website and click one button on Pia Online "Call to Vote" during the two hours following each show and vote for their favorite idol by pushing one button, instead of having to dial ten digits each time the fan wants to vote, over and over again.
One Click to Turn the Mobile Website into an iPhone App. The second feature allows iPhone users who access the mobile website for the first time, to click on a floating install button and turn the mobile website into a Pia Toscano iPhone App. This bookmarks the mobile website as an iPhone App without having to go through Apple.
One Click to Share Pia. The third feature is "Share Pia" which allows each fan to click on the button and enter a friend's text number--then automatically text Pia Online to a friend.
One Click to Social Networking Sites. The fourth feature allows users to immediately access the social networking sites for each idol performer like Twitter or Facebook so fans can follow that latest information about their star on a mobile phone.
One Click to Access Videos. The fifth unique feature allows fans to access Pia Toscano videos from YouTube from her fan mobile website instantly with a push of one button.
One Click To Access iTunes Store. The sixth unique feature allows fans to find any future music from Pia Toscano on iTunes and to access the songs directly for purchase instantly.
For further information on PIA MOBILE (http://www.PiaToscano.mobi) contact Robert S. Widner at the Dallas Divorce and Technology Law Firm contact Bob Widner by email at bwidner(at)msn(dot)com and/or telephone at 972-979-5700.
###