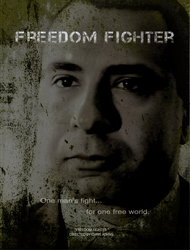 (PRWEB) March 10, 2011
One Free World International has announced the Toronto premiere of their powerful human rights documentary FREEDOM FIGHTER. The March 27th event will include addresses by Members of the Canadian Parliament and a Q&A session with the "freedom fighter" himself, Rev. Majed El Shafie.
SCREENING INFO:
Sunday, March 27, 2011 at 9:00 a.m.
PORTICO Community Church
1814 Barbetown Road,
Mississauga, Ontario, L5M 2M5
Tel: 905-826-0856
Admission is FREE. To RSVP, email info(at)onefreeworldinternational(dot)org by March 20, 2011.
In attendance for the premiere and post-screening Q&A session will be Minister of Immigration, the Honorable Jason Kenney; Minister of Immigration, Mario Silva - Deputy Chair of the Human Rights Subcommittee of the Canadian Government; and Member of Parliament, Pierre Poilievre - Parliamentary Secretary to the Prime Minister. Also in attendance will be the "freedom fighter" himself, Rev. Majed El Shafie.
FREEDOM FIGHTER follows the footsteps of Rev. Majed El Shafie over a four year period as he travels on fact-finding missions to investigate and document human rights abuses against religious minorities around the world, focusing on Egypt, Pakistan, Afghanistan, Iraq and China and the rising of anti-Semitism. You will witness how Rev. El Shafie confronts political leaders with evidence of their governments' human rights violations, persecution and slave camps. Rev. El Shafie also brings hope and healing to his victims as seen by his daring and dangerous rescue mission to bring a little girl and her family safely to Canada. The film also covers Rev. El Shafie's efforts to bring these issues to the attention of the Canadian government leaders as well as his support for our Canadian troops.
The Toronto event will also serve as the official launch of One Free World International's One Million Voices Campaign. To view the trailer for FREEDOM FIGHTER or learn more about the One Million Voices Campaign, please visit http://www.freedomfightermovie.com.
About Rev. Majed El Shafie:
Rev. Majed El Shafie was arrested, tortured and sentenced to die in Egypt because of his faith. Escaping to Israel, he was imprisoned until his eventual release a year and a half later. Today Rev. El Shafie lives in Canada and fights for those persecuted around the world. Pressuring governments, and challenging both world and spiritual leaders, Rev. El Shafie has not been afraid to put everything on the line to help those in need.
# # #