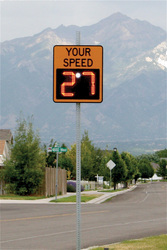 Spring Valley, NY (PRWEB) March 14, 2011
Cities looking for a full featured radar sign that can provide detailed traffic data and reports now have a new alternative with surprisingly affordable pricing. The Traffic Logix SafePace 100, a low-cost radar sign launched just last August, was initially positioned as an entry level sign offering basic features with a few add on options. At the behest of cities and communities looking for a low-cost sign but who still required data collection capabilities, Traffic Logix has now integrated comprehensive data collection as an optional feature on the SafePace 100.
The new data option allows for the capture and storage of traffic related data including vehicle numbers, speed, and calculations such as 85th percentile, minimum, maximum, and average speeds. A user-friendly software interface allows for easy setup, programming, assessment and monitoring of the signs. Up to 60 days of data can be stored in the sign, which can be downloaded and analyzed using the software's reporting tool. Data and reports can be saved and transferred for future use.
The new data collection feature allows users to utilize the sign not only as a speed control solution, but also to provide valuable traffic data for analysis. The lightweight signs can be used either as a permanent solution or a portable one. Weighing only around 20 lbs, the signs can be easily moved from location to location and can be remounted in a matter of minutes.
With the introduction of this new option, the SafePace 100 is now the most inclusive low cost radar sign available.
Standard features on the SafePace 100 include a light enhancing, anti-glare lens system, vandal resistant protective cover and lenses, lightweight design for portability, energy efficiency, on-sign programming, and an adjustable strobe. Additional sign options include a universal mounting bracket, battery power for up to four weeks consecutive performance, and solar power.
In addition to the SafePace 100, Traffic Logix manufactures full size radar signs and trailers, as well as a complete line of rubber traffic calming solutions including speed humps, speed cushions, and speed tables as well as flexible rubber curbing.
To learn more about the SafePace 100 and other Traffic Logix traffic calming solutions, visit http://www.trafficlogix.com.
###