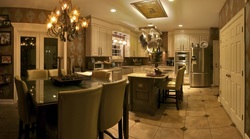 "These workshops are all about creating value for participants. By offering relevant and new information..." Jared Crenshaw
Murfreesboro, TN (PRWEB) March 12, 2011
Spring is the ideal time for homeowners to start tackling those long-awaited remodeling projects and for creative entrepreneurs to drum up new business. Faux A Good Time announces three new spring workshops, designed to make remodeling and small business internet marketing fun, affordable, and easy.
The daylong workshops – The Aurastone/Granicrete Flooring and Countertop, The Kitchen Remodel, and Making Sense of the Web – are "all about creating value for participants. By offering relevant and new information, faux finishers will have finishes they can sell, homeowners will have a plan and budget to remodel and decorate their homes, and creative business owners can grow their businesses," says co-owner Jared Crenshaw.
Faux A Good Time's faux painting classes and faux finish classes are all based on specific themes, including repurposing, space solutions, creative business, and hot, new products.
The Aurastone/Granicrete Flooring and Countertop workshop, featuring three faux finish classes from March 31 through April 3 that can be taken all together or individually, teaches participants how to use Aurastone and Granicrete to create granite, marble, or stone likenesses on countertops and floors. Cost of the class includes a study guide, class tools and supplies, and samples.
The Kitchen Makeover Workshop, scheduled for Saturday, April 9, will help homeowners create a plan and a budget for their remodel. Participants will also learn what a kitchen remodel project entails, how an updated kitchen can affect a home's value, and they will receive valuable coupons to help their remodeling efforts.
Slated for Saturday, April 23, Making Sense of the Web is geared toward business owners ready to take control of their small business internet marketing strategies in a constantly evolving environment. Participants will get an overview of internet marketing history to the current Web 3.0 and will gain a deeper understanding of today's popular marketing methods.
All workshops will be held at Mojo Faux Finishes in Murfreesboro, TN.
Future workshops, including faux finish classes and faux painting classes, are currently being planned and, according to co-owner Ande Crenshaw, will focus on the participants' interests. "Future workshops will be based on exposing students to what is cutting edge and what they say they'd like to learn," she says.
Faux A Good Time also takes the high cost out of remodeling, allowing seasoned and new do-it-yourselfers to tackle projects at their own pace, with a full line of faux painting and faux finishing products. Free and cost-effective downloadable faux painting videos, hosted by Ande Crenshaw, provide step-by-step instructions to help viewers complete such tasks as applying a faux finish on a wall.
Do-it-yourselfers can also purchase one of Faux A Good Time's popular faux finish kits. Individually tailored for each customer's specific project requirements, the kits include the tools and the faux finish products necessary to complete the project. Each video shows step-by-step instructions.
To learn more about Faux A Good Time's products or to register for one of their workshops, please visit http://www.fauxagoodtime.com, or contact Jared Crenshaw at thefauxguy(at)gmail(dot)com or 888-995-3289.
Contact:
Jared Crenshaw
1-888-995-3289
thefauxguy(at)gmail(dot)com
# # #