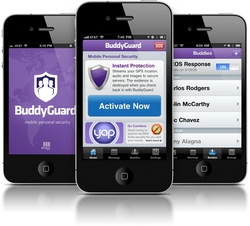 Consumers can choose from more than 350,000 apps in the App Store. BuddyGuard is the only one that can help save your life, and it's free.
Austin, TX (PRWEB) March 10, 2011
With today's launch of the BuddyGuard app for iPhone, consumers around the world can convert their handsets into personal protection devices designed to reinforce personal safety precautions, aid public safety personnel in emergency situations and, in some cases, to deploy private search and rescue services from the leading global provider GEOS.
BuddyGuard's monitoring, detection and warning capabilities employ the phone's built-in GPS, camera, recording and messaging functions to safeguard users in everyday situations such as travelling away from home, completing in-person transactions, meeting new people or passing through unfamiliar or isolated areas.
"Consumers can choose from more than 350,000 apps in the App Store. BuddyGuard is the only one that can help save your life, and it's free," said Tony Alagna, chief security officer, MPOWER Labs. "We typically only think of security technology as a way to secure digital environments, but as we conduct more of our lives in digital spaces and bring those activities into the physical realm, creating a secure environment requires technology that can bridge the two worlds. That's where BuddyGuard comes in."
Get Peace of Mind on Demand with BuddyGuard
With BuddyGuard, users enjoy the security and peace of mind that comes with using a simple, mobile personal security application that offers the following features:

Discreet Audio, Video and Location Capture – When activated, BuddyGuard continually – and virtually without detection – records audio, snaps photos and notes GPS coordinates every 3 seconds and stores the data securely on a virtual secure server so the information can be accessed even if the phone is taken or destroyed.
Emergency Alerts – When an alarm is triggered, BuddyGuard sends automated emergency notifications to designated contacts via phone, text message and email. Text message and email notifications include audio and video files captured by BuddyGuard along with a link to a map showing the last recorded location.
One-Touch and Time-Out Alarm Settings – BuddyGuard users can choose from two alarm settings for activating emergency alerts. The one-touch alarm sends alerts with a simple touch of a button prominently displayed on the BuddyGuard app screen. The time-out alarm allows users to set a "check-in" time, and a user's failure to respond to the application prompts at that time will trigger an emergency alert. Users can disable a false or accidental alert by simply entering the PIN they select during setup to send a message via email and text notifying emergency contacts they are safe.
Law Enforcement Locator – Upon loading, BuddyGuard instantly displays a detailed map indicating the locations of nearby law enforcement officers and police stations within a 2-mile radius of the user's current location.
Crash and Fall Detection Beta – Currently in beta testing, BuddyGuard's crash and fall detection feature can automatically sense a fall, a roll and a 5G stop when activated and will automatically trigger an emergency alert within 5 seconds if users do not respond to a warning notification the application displays.
Premium Version Offers GEOS Search and Rescue Services
Through a partnership with GEOS, the leading global provider of private search and rescue services, BuddyGuard proudly offers a premium version of its personal security app equipped to give users additional security all over the world. In the premium version, BuddyGuard emergency alerts reach personal emergency contacts and GEOS' International Emergency Response Coordination Center (IERCC). The IERCC will relay captured audio, video and GPS data along with a description of the situation to local authorities, emergency responders and national embassies if needed. GEOS will also coordinate emergency response efforts, authorize any additional search and rescue efforts it deems necessary – including private aircraft or helicopter charters, private search teams, translators, etc. – and cover the costs up to $100,000 per year and $50,000 per any single incident with underwriting provided by Lloyd's of London.(1)
Early users of BuddyGuard who participated in private testing praise BuddyGuard for its global coverage and its unmatched ability to afford users protection that goes where they go.
"Like universities everywhere, UT System constantly seeks ways to enhance a safe and secure learning environment for all who are involved," said Barry Burgdorf, Vice Chancellor and General Counsel, the University of Texas System, a public university system comprising the University of Texas at Austin, eight other academic universities and six health institutions with enrollment of more than 190,000 students. "In my personal capacity, I had a chance to test BuddyGuard, and it is the first application that I have seen that can and will contribute to the protection of faculty, staff and students no matter where they are, on campus or half-way around the world."
Three Easy Steps to Launch and Use BuddyGuard
BuddyGuard works anywhere in the world where cellular service is available and is as easy to set up and launch as adding contact information to your mobile phone's directory.
1. Set Up Emergency Contacts – After installing and launching BuddyGuard, enter your emergency contacts, including name, mobile number and email address. All emergency contacts will receive a courtesy email notifying them you have placed them on your emergency contact list. Direct your emergency contacts to attempt to confirm any emergency alert they receive from you, and if they cannot reach you, to contact emergency services, describe the information they received from BuddyGuard and offer to relay the BuddyGuard data to assist emergency services in the response effort.
2. Activate BuddyGuard – Simply open up the BuddyGuard application on your phone, enter your security pin and turn on the one-touch alarm, time-out alarm or crash and fall detection and feel safe as you go on your way.
3. Add BuddyGuard to Your Safety Routine – Just like locking the door behind you, turn on BuddyGuard every time you leave and enjoy the peace of mind that comes with having extra security that goes where you do. Note BuddyGuard is not a replacement for contacting emergency services like 911 in the U.S., and it will not work if your handset battery loses power.
Pricing and Availability
Anyone with an iPhone or iPod touch can immediately download the BuddyGuard personal protection app from the App Store for free, or they can choose the premium version with GEOS Search and Rescue Service for $119.99 per year, less than 50 cents per day.
BuddyGuard expects to offer BlackBerry and Android versions in the near future and plans to resell the application through partners.
BuddyGuard was developed by security and mobile technology experts at MPOWER Labs, a business incubator and accelerator based in Austin, Texas dedicated to developing innovative financial services for underserved markets, including secure mobile payments.
For more information, visit http://www.buddyguard.org , or follow BuddyGuard on Facebook and Twitter.
(1) GEOS responds in every country worldwide except Afghanistan, Iran, Iraq, Libya and North Korea. For full terms and conditions please refer to http://www.geosalliance.com/sar.
About BuddyGuard
BuddyGuard is a simple, mobile security application that converts a cell phone into a personal protection device designed to safeguard users when everyday situations become emergencies. By employing the built-in GPS, camera, recording and messaging functions available on most handsets today, BuddyGuard makes it easy for users to find or call for help and to aid in their own response by sharing the audio, photo and GPS data BuddyGuard automatically and continually captures when activated. BuddyGuard is available for free download from the App Store. Users can also choose a premium version that comes with access to private search and rescue services from the leading global provider GEOS. For more information, visit http://www.buddyguard.org.
About GEOS Alliance – "We're there when you need us…"
Established in 2004, GEOS is the World's only global International Emergency Response Coordination Center (IERCC). Through this highly qualified Response Center, GEOS can coordinate rescues in any part of the World.
"So others may live to tell about it – GEOS saves lives."
Please see http://www.geosalliance.com.
###