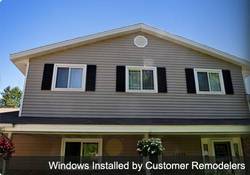 (PRWEB) March 15, 2011
Custom Remodelers, Inc. is pleased to announce the winners of the 2010 annual remodeling prize contest. The lucky winner receives new windows or siding with a value of up to $20,000.
The home remodeling prize is the winner's choice of either new, energy-efficient, vinyl windows for the entire home or a complete exterior facelift with maintenance-free siding. Either prize choice includes free installation. The siding prize comes with a choice of many colors of Custom Guard siding, as well as corner posts, J-channel and finish trim. This prize also includes tear-off of existing siding.
Custom Remodelers, Inc. collected entries throughout the year through their website, http://www.customremodelersinc.com, as well as at building and other trade shows. The winner of the drawing was randomly selected on December 31, 2010. No purchase was necessary to enter the contest. Custom Remodelers, Inc. has been running the contest for nine years.
Ranked nationally as one of the largest and fastest growing home remodeling companies in the nation, Custom Remodelers Inc. is a family owned and operated business that believes in giving back to the community.
Custom Remodelers, Inc. is one of the most experienced home improvement contractors in Minnesota, and specializes in exterior home improvements, such as siding, windows, doors, gutters, roofing, and decks and interior remodels including kitchens, bathrooms, and basements. Their professionalism and superior customer service has earned them a reputation for reliability and honesty, and the respect of their peers and partners in the building industry. Read Custom Remodelers reviews from actual customers at http://www.customremodelersreviews-mn.com.
# # #