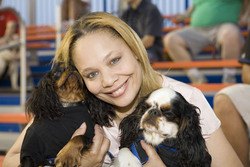 New York (PRWEB) March 14, 2011
Ready to get healthy with your pet this spring and summer? Looking for products to help with specific pet problems like car safety, dental health, escape artists, doggie diets or cat scratching? Pet Socialite Events is excited to present an exclusive pet products showcase titled "Better Health & Wellness" on Tuesday, April 5 from noon - 6:00 pm at the InterContinental New York Barclay Hotel. For one-day only, pet product companies will travel to New York to showcase their new pet product lines. From the latest exercise equipment to health, wellness and organic pet products, guests will preview innovative pet product inventions that focus solely on enhancing a pet's health, nutrition, wellness and overall lifestyle.
Celebrity pet expert, author and columnist Charlotte Reed will share health, wellness and organic pet trends for spring and summer. "More than ever pet owners are looking for solution-orientated products that can help them address their pet concerns and resolve their problems. Moreover, in light of the economy, we are seeing a return to the traditional customer, a pet owner is buying products that are dependable, reliable and worth the money."
As a special treat, guests will also tour an exclusive "doggie gym" that Reed created as a response to the fact that American pets are as overweight. The gym is outfitted with the latest exercise equipment and workout wear for puppies and senior dogs alike. Look for Doggie Treadmills, Pet Surfboards, Pet Balance and Exercise Balls, Canine Yoga Mats and more! Pet Fitness trends like Doga, Pawlites and Boot Camp experiences will be discussed.
Participating pet companies include: FitPAWS Canine Conditioning Equipment, Chow Now, Imperial Cat, MuttManagers, Molly Mutt, Oxyfresh, Pawgua, PETCO, Premier, Puppy Bumpers, SafeMade Pet Products, Trimline, World's Best Cat Litter and more!
Admission is free for members of the press, veterinarians, pet healthcare professionals, pet boutiques and pet product buyers. Pets are welcome to attend. Product samples and press kits available on-site.
For more information or to register, visit: http://www.petsocialiteevents.com
About Pet Socialite Events
Catering solely to the pet industry, Pet Socialite Events connects pet industry professionals with targeted media outlets in an effort to advance pet lifestyle & culture, promote the animal-human bond and increase awareness of one of the fastest growing industries in the country. Hosted as one-day national meet-and-greet events in New York City, Pet Socialite Events highlights the best-of-the-best pet products, companies and trends to give national magazines, talk show producers, newspaper reporters and bloggers an easy and fun opportunity to experience new products, meet new sources and become inspired to write thought-provoking stories. For more information, visit: http://www.petsocialiteevents.com
###