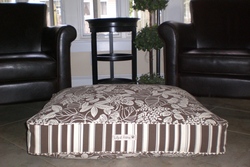 "The beds are all handmade making them truly unique and amazing."
Melrose, MA (PRWEB) March 15, 2011
Lilly & Abbie Custom Dog Beds is announcing its line of luxurious, American made dog furniture designed to complement the style, and unique taste, of the pet owner. Based in Massachusetts, Lilly & Abbie currently services a clientele of pet-owners world-wide. Unlike other dog bed manufacturers, Lilly & Abbie Dog Beds are completely custom while catering to dog lovers of all budgets.
Lilly & Abbie Custom Dog Beds provide consumers with a real choice to indulge their pooch with comfortable lounging furniture. No longer do pet owners have to choose between bulky, generic looking bedding for their dogs while maintaining a fashionable living space for themselves.
Lilly & Abbie Custom Dog Beds come in seven sizes and a variety of shapes. A bouquet of over one hundred modernly chic, boldly rich, and beautifully romantic fabrics are also available to choose from via the company's website, http://www.lillyandabbiedogbeds.com. The company also provides a COM feature. COM stands for Customer's Own Material. This unique element allows dog owners to send in their own fabric, dictate the size and shape, and personalize their pet's bedding at an inexpensive price.
Lilly & Abbie Custom Dog ensures all fabrics are pre-washed to prevent shrinking. The fabric also maintains durability, and can stand-up to the expected wear and tear associated with even the largest breed of dog. All beds designed by Lilly & Abbie are easy to clean, machine washable, and offer water proof liners. In addition, the company believes in promoting social wellness by offering green friendly inserts.
Lilly & Abbie Custom Dog Beds also design a line of customized dog carriers and showcase their
signature Black & White Collection. The company is stimulating the American economy while answering the demand of loving pet owners. Lilly & Abbie is currently marketing to individual pet owners and sophisticated retailers who share the company's same green, pet loving philosophy!
Lilly & Abbie Custom Dog Beds is owned by Michelle Lessing. Michelle named Lilly & Abbie appropriately after her two Black Labrador Retrievers. A true pet lover, Michelle combined her role as dog owner, and her experience as a custom window treatment designer, to birth her entrepreneurial skills that would become Lilly & Abbie Custom Dog Beds.
Fabric samples, a full media kit, and an interview with the owner of Lilly & Abbie are available to qualified media upon request.
# # #