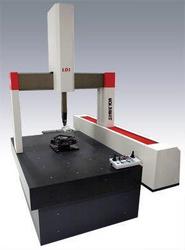 The 3D laser scanner scans parts from all orientations, and then easily orients the 3D scan data back into a common coordinate system.
Minneapolis, MN (PRWEB) March 12, 2011
Laser Design Inc., the leading supplier of 3D laser scanning for more than 30 years, introduced a new high-precision line of 3D scanners, the Surveyor ZS-Series. It is based on the Spectrum CMM platform from Carl Zeiss Industrial Metrology, the world-renowned manufacturer of high-accuracy measurement equipment.
The systems are integrated with Laser Design's industry-best, ultra-precise, fast laser line scanning probes combining the best of all technologies.
The ZS-Series sets a new standard for precision and ease of use in 3D measurement. Systems are available in many sizes to accommodate a wide variety of parts and applications. The Surveyor ZS-Series systems are CE rated, making them an ideal choice for worldwide customers. The turnkey system is highly automated with the optional Renishaw PH10 motorized indexing head and optional high-precision rotary stage to quickly and easily scan simple prismatic shapes or complex free-form objects for inspection, analysis, or reverse engineering applications.
With its patented laser line scanning technology, Surveyor ZS-Series scans parts from all orientations, and then easily orients the 3D scan data back into a common coordinate system. The scanner controls up to 7 axes of motion for unattended operation or interactive joystick scanning. Proprietary scanning software provides optimization for part specularity, data density control, and filtering as well as macro programming capabilities for automating repetitive applications and eliminating operator involvement.
Users can choose from a wide range of laser scanning options for ultra-precise measurement depending on the size and level of detail on the objects to be scanned. Parts such as plastics, metal, rubber, cast, molded, forged, machined, or extruded components, as well as tooling, dies, or molds, are all typically measured items. Laser Design supports industry leading scan data processing software to provide the best results available for reverse engineering and inspection applications.
About Laser Design / GKS Global Services
Laser Design, Inc. and GKS Global Services have been leading suppliers of ultra-precise 3D scanning systems and services for three decades. We help customers successfully complete their most complex inspection, analysis, and reverse engineering projects quickly, giving them a competitive advantage. Contact Laser Design at 952-884-9648 or visit http://www.LaserDesign.com.
# # #