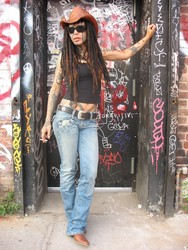 New York, NY (PRWEB) March 22, 2011
Lead singer Angelica Velez, otherwise known as "Insectavora" from the world famous Coney Island Sideshow, has propositioned a group of legendary icons with her "music critics for a day" offer. The names include Mick Jagger, Madonna, Prince, Bono and Paul McCartney. Whichever legend agrees to review the CD/DVD first can have the rights to the music, including the publishing rights. "I know there are bands that have given their fans free copies of their cds or let people download some of their music for free" said Insectavora "but I think this is the first time a band has actually given away the worldwide rights to their music and videos. Hopefully this will get some attention and that will translate into some big money going to a good cause."
And it just may. One undeniable truth about the music industry is no one ever knows where the next big musical act or hit song is coming from. There are endless stories of unknown singers rocketing to the top of the charts and those true-to-life fairytales are part of what makes Insectavora's offer so appealing. Could one of her songs become a big hit? Who knows? One of the most famous "breakthrough" stories involves the band "Soft Cell" which recorded the single "Tainted Love" in a day and a half in 1981. Weeks away from being dropped by their record label the little known band's song began to slowly climb the charts, eventually reaching Number One in 17 different countries and setting a then "Guinness World Record" of 43 consecutive weeks on the Billboard Hot 100 chart. And of course there's "Bat Out Of Hell," the classic "Meatloaf" album, which was turned down by every major label and later when on to sell 40 million copies and make hundreds of millions of dollars. Those and many other examples prove that anything could happen with anyone's music and often does. Insectavora knows this full well and still seems willing and even eager to give it all away. Why? "I guess there are two reasons: one, it would be interesting to see what Madonna or Mick Jagger or any of these legends thought of my music and two, I'd feel really good if I was personally involved in a project that gets some money to a good charity." Her wish may come true. Though, as mentioned, there have been a few bands that have given away some of their music through the internet those freebies have never included the lucrative worldwide publishing and performance rights. That alone may be enough to peak the interest of a few record companies.
And now, before this article ends, there is one last question that begs an answer: Where in the world did the band get their name, Eellogofusciohipopkunurious? "It's actually a real word," said Insectavora, "it means "good, perhaps very good." Let's hope one of those rock stars she's picked agrees. To see Insectavora's music video, "More Love For You" just go to youtube or log onto Nightofthedayofthedawn.org. In addition to this CD/DVD package being targeted for a charitable purpose Insectavora is also starring in the feature film, "Night Of The Day Of The Dawn Of The Son Of The Bride Of The Return Of The Revenge Of The Terror Of The Attack Of The Evil, Mutant, Hellbound, Zombified Living Dead, …Part 5," produced by Mark Zobian and directed by Jim Riffel. Zobian and Riffel are part of a filmmaking team that is donating the worldwide rights to that film to charity along with $10,000 and the rights to eight other film properties.
For more info check out NightOfTheDayOfTheDawn.org or contact Amy at 973-635-9821 or BlueCrashFilm (at) aol (dot) com.
###