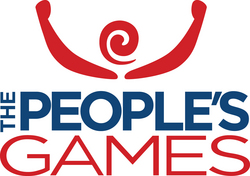 Santa Monica, CA (PRWEB) March 10, 2011
The People's Games announces a call for tryouts to basketball players in New York City and Los Angeles. Participants can register for tryouts at http://www.PeoplesGames.com (or by calling 800-TPG-3098).
The People's Games is a new sports competition that offers athletes the opportunity to represent their city as they face off against other US cities in a battle to prove which has the best athletes.
This inaugural basketball competition calls on recreational, streetball, college and pick-up players to bring their best game to the court. The People's Games offers the best non-professional players in a city the opportunity to represent their hometowns and show the world their skill in local venues with local sports icons as their coaches.
Once teams are chosen, a "best of three" finals series will be played, starting on May 1 in Los Angeles before moving to New York City on May 3. If necessary, a tie-breaking third game will be played on May 4.
Tryouts are open to the public. Participants must be 18 years of age or older and a resident of the city they are representing. New York tryouts will take place at 1pm ET in the following locations:

Bronx: St. Mary's Recreation Center, 450 St. Ann's Avenue, Bronx, NY 10454
Brooklyn: St. John's Recreation Center, 1251 Prospect Place, Brooklyn, NY 11213
Manhattan & Staten Island: Alfred E. Smith Recreation Center, 80 Catherine Street, New York, NY 10038
Queens: Al Oerter Recreation Center, 131-40 Fowler Avenue, Flushing, NY 11355
Los Angeles City tryouts will take place at 9am PST in the following locations:
Balboa Sports Complex: 17015 Burbank Blvd., Encino, CA 91316
EXPO Center: 3980 S. Menlo Ave., Los Angeles, CA 90037
Normandale Recreation Center: 22400 Halldale Ave., Torrance, CA 90501
Pan Pacific Recreation Center: 7600 Beverly Blvd., Los Angeles, CA 90036
Pecan Recreation Center: 145 S. Pecan St., Los Angeles, CA 90033
Westwood Recreation Complex: 1350 S. Sepulveda Blvd., Los Angeles, CA 90025
The People's Games will be conducted in partnership with the City of Los Angeles Department of Recreation & Parks and in coordination with the New York City Department of Parks & Recreation. A portion of the proceeds from The People's Games will be donated to the local recreation and parks departments in participating cities.
About The People's Games http://www.PeoplesGames.com
THE PEOPLE'S GAMES is a new brand of sport in America. It is an original and unique concept which provides an opportunity for the common man to represent their city in sporting competition against rival cities. It's an opportunity for real people...teachers, taxi drivers, policemen, janitors, waiters, etc...to live out their dream of playing in a big time sporting event, representing their family, neighborhood, and city in pursuit of the thrill of victory.
THE PEOPLE'S GAMES recaptures the way sports used to be...when it was about heart, passion, and teamwork...played by people of varying backgrounds, race, religion, and social status...in short, when people played for "the love of the game", not for money or fame.
Unlike other competitions, players on a team must come from the city for which they play. THE PEOPLE'S GAMES are the antithesis of professional sports.
###