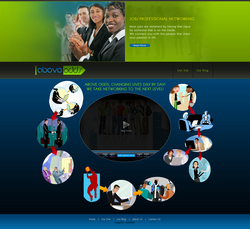 Changing lives day by day. We take networking to the next level!
Browns Summit, NC (PRWEB) March 18, 2011
Above Odds, creator of the first video-based, talent-cum-social networking platform has officially launched with many promises of flagship features that could very well redefine the talent hunt and business networking.
With the core of the platform relying on newsreels, this social video network for professional talent and employers alike is based on what professions they select and what categories of interests they fall in. With an immediate ready networking facility, users can put their networking skills to the test in a matter of minutes. Unlike other video resume platforms in the market, Above Odds caters to all of the business networking needs of the community.
With multiple features such as privacy controls, career networking for candidates has never been so simple. One of the control features that stand out allows either partial or public views of a job seeker profile. Only when two connections become 'colleagues' on the network will they be able to see each others individual details. Another feature password protected video resumes. This feature allows absolute control of who can view your profile.
Candidates looking for job and career networking opportunities can create personal and informative video resumes or video cover letters via the Above Odds website. There is no need for downloads, installations, and heavy pricing structures, as Above Odds provides candidates a simple way to reach out and start professional networking.
Job networking on Above Odds enables candidates to integrate their paper CVs or resume into their video resume, providing potential employers and business partners an in-depth view of the candidates' professional background, allowing for higher quality vetting. Because the concept is based on social networking and talent hunt through social network newsreels, employers and potential business partners alike can have immediate access to job seeker details, as long as candidate privacy allows for it. This immediate response time significantly decreases placement and hiring time for employers.
For employers, posting and advertising all their opportunities on the Above Odds website is a simple process which increases efficiency within their in-house recruitment structure and selection functions.
With a database of quality candidates, the candidate pool is immediately visible to employers and hiring managers. Employers can create unique profiles of their companies, which can be seen by top job-seeking candidates. With job-seeker video resumes and cover letters available to employers at the click of a button, employers have a personal encounter with candidates via their structured video profiles. Deciding on an ideal fit for your firm has never been easier.
Above Odds also allows employers and hiring managers to create bespoke video interviews, which can then be sent to shortlisted candidates.
Welcome to Above Odds, the new platform for social networking!
Above Odds isn't just another social network. We are interested in connecting people in all aspects of their careers. Whether you are looking for you dream job, growing your business or if you have an extreme talent, we can help you reach your goals and live Above Odds! Join free today.
# # #