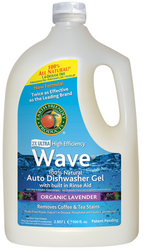 Keeping families safe from toxins has always been our number one priority
Garden Grove, CA (PRWEB) March 11, 2011
Earth Friendly Products (http://www.ecos.com), a leader in manufacturing award-winning, eco-friendly cleaning products, will unveil this week at Expo West the latest addition to the company's line-up of groundbreaking products: a 100 oz container of plant-based Wave Auto Dishwashing Gel. The new, larger size is economical and ideal for families, small or large and will be available exclusively at club stores nationwide.
Wave Auto Dishwashing Free & Clear Gel is 100% natural and is the purest, greenest, most effective automatic dish detergent on the market. Wave contains no salt, unlike traditional powdered detergents and won't pollute waterways. Developed specifically for those who are allergy-prone, the all-natural automatic dishwashing detergent won't irritate noses but cleans just as well as other dishwashing detergents, green or not!
"Keeping families safe from toxins has always been our number one priority," said Kelly Vlahakis-Hanks, Vice President of Earth Friendly Products. "Earth Friendly Products' entire line adheres to a strict freedom code; free phosphates, 1,4-dioxane, formaldehyde, petroleum, bleach, ammonia or other chemicals with the interest of our customers, their families and pets in mind. The larger Wave Gel is perfect for families who are on a budget but also looking to eliminate chemicals and toxins from the home."
Currently available in 40 oz size, 100 oz Wave Auto Dishwashing Free & Clear Gel will be in club stores by Earth Day on April 22nd. The product is available in Organic Lavender scent, with real lavender extract, or in scent-free Free & Clear.
Earth Friendly Products is committed to keeping families, children and pets safe from toxic chemicals found in everyday household cleaners and is constantly striving to raise awareness for a green lifestyle. The company, which manufactures over 150 all-natural, green cleaning products, recently initiated a new campaign to encourage faithful users to convert their friends with poor cleaning habits to a greener life. The campaign includes a contest where fans of Earth Friendly Products on Facebook can enter to win two iPads and a year's supply of cleaning products.
For more information about Earth Friendly Products please visit http://www.ecos.com.
About Earth Friendly Products
Earth Friendly Products is the leader in the development and production of environmentally friendly cleaning supplies for household and commercial use with over 150 products manufactured, distributed, and sold in the USA, Canada, Europe, South America, and Asia. All Earth Friendly Products are created with only replenishable and sustainable plant-based ingredients that are safe for people, pets, and the planet. The company proudly adheres to its strict "Freedom Code", a list of harmful and toxic ingredients that are not found in any of its products. Earth Friendly Products has proudly received the 2010 GEELA Award, 2009 Green PatriotTM Green 100TM Designation and the Champion level recognition from the US EPA through the Design for the Environment (DfE) Program's Safer Detergents Stewardship Initiative.
EDITOR'S NOTE: For more information about Earth Friendly Products, or to speak with Vice President Kelly Vlahakis-Hanks, please contact Nancy Trent or Pamela Wadler at (212) 966-0024.
###