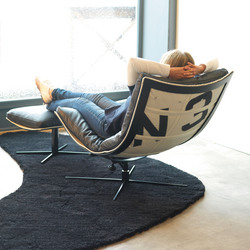 "I am excited to have the Spinnaker chair showcased and launched at the Architectural Digest Home Design Show," said Christensen, "From the strong consumer response we've received from the press and online, we believe this will be a successful show and re
New York, NY (PRWEB) March 14, 2011
The highly buzzed about Spinnaker Chair from Norwegian brand Hødnebø will be launching into the United States from March 17 – 20 from 10:00 am to 6:00 pm at the Architectural Digest Home Design Show in New York City. For four days the Spinnaker team will be showcasing the design and comfort of the chair to retailers, interior designers and the interested general public in booth 126. The show is located at Pier 94, 711 12th Avenue, New York, New York 10019.
The Spinnaker chair is a modern and luxurious chair created in collaboration with Hødnebø, Norwegian furniture manufacturing company and Norwegian designers Linda Steen and Lena Axelsson. The spring-loaded chair allows you to settle into the most comfortable angle possible. With its sail-like shape, the Spinnaker chair simulates the feeling of floating on a cloud. And you can customize it to fit your decor by choosing colors for the leather cushions and canvas backing—they will even use your old sails for added saltiness. You can also include your initials or a design, such as a compass symbol "and the sail number on your favorite sailing yacht."
"I am excited to have the Spinnaker chair showcased and launched at the Architectural Digest Home Design Show," said Christensen, "From the strong consumer response we've received from the press and online, we believe this will be a successful show and retailers will be highly interested in carrying the chair and ottoman."
Spinnaker is a modern living room furniture ensemble, including the chair, ottoman, coffee table and entertainment console. The booth layout at the will simulate a living room so consumers can envision how Spinnaker will look in their home or office. The Spinnaker team will include the presence of a third generation Hødnebø, Stig Hødnebø and CEO Thomas Christensen. They will also host an event within the booth as a special Norwegian sail viewing to talk about the inspiration and specifics of the design of the unique chair.
For more information or to register to attend the event please visit http://www.archdigesthomeshow.com/.
About Spinnaker by Hødnebø Møbler AS:
Hødnebø has been creating furniture since 1904, including the new Spinnaker chair. The Spinnaker chair is a unique and modern chair that can fit into any style of home décor. Designed with its luxurious fabric, and specific sail design, one feels as though they are relaxing and sitting on a white cloud. The Spinnaker furniture ensemble can be purchased worldwide with locations in Norway, Netherlands, Germany, Belgium, Denmark, France, Sweden, Switzerland and Taiwan. It is also available to order in North America from Maven Retail Partners (http://www.mavenretailpartners.com). The chairs are easy to order online; pick the color fabric, steel frame and personalize the back of the chair with sailing symbols and numbers then contact the nearest dealer. For more information, visit: http://www.Spinnaker.no/.
About Architectural Digest Home Design Show:
This Architectural Digest Home Design Show is the 10th annual event specifically for the design trade, having over 300 exhibits on excellent home furnishing companies from designers to manufacturers, to represent their most reliable and luxurious products and services. The show will include cooking demonstrations and tastings from celebrity chefs, complimentary twenty-minute one-on-one consultations with design professionals, design seminars presented by The New York Times and industry associations, and tours with members of the American Society of Interior Designers. More information about this event can be found at http://www.archdigesthomeshow.com/.
###