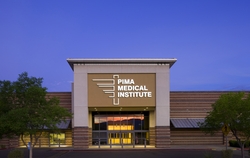 Albuquerque, NM (PRWEB) March 14, 2011
Pima Medical Institute, a leading private medical career college, today announced the offering of its latest program at the Albuquerque campus: the Dental Hygiene program. This associate degree program is a first for Pima Medical Institute and offers a variety of course subjects designed to train students for entry-level positions as dental hygienists.
"The Albuquerque campus is excited to be the first Pima Medical Institute campus to offer the Dental Hygiene program to our students," said Karen McGrath, interim campus director. "We look forward to addressing the community's need for qualified, professional health care workers in the dental field."
The new Dental Hygiene programs builds upon Pima Medical Institute's dedication to offer relevant, quality education that is affordable. The program helps students develop the skill set necessary for success in the field. Students receive classroom instruction that includes topics such as communication, anatomy and physiology, radiography, oral pathology, patient management, dental materials, periodontics and more, along with real-world training that will help them put what they've learned into practice.
"We strive to ensure students at Pima Medical Institute receive a well-rounded education that encompasses traditional classroom instruction paired with hands-on training," said McGrath. "This combination of education techniques gives our graduates a competitive edge when applying for positions and ensures they are at-ease the moment they greet their very first patient."
According to the U.S. Bureau of Labor Statistics, dental hygiene ranks among the fastest growing occupations in the country. Due to population growth, an emphasis on preventative dental care and older people who are retaining more teeth, employment of dental hygienists is expected to grow 36 percent through 2018.
The Dental Hygiene program is the first new program to be added to the Albuquerque campus since its expansion into the 44,000-square-foot space at the Pavilions at San Mateo, in early 2010. To date, Pima Medical Institute offers 11 associate degree and certificate programs in Albuquerque, including a Massage Therapy program offered at its Massage School and Clinic, located on San Pedro N.E.
About Pima Medical Institute
Established in Tucson in 1972, Pima Medical Institute (PMI) is one of the premier medical career colleges in the western United States. PMI is a private, family-owned, accredited school dedicated to providing students with a well-rounded education that offers theoretical classroom studies coupled with real world training on-site at medical facilities. Pima offers a wide range of certification and associate degree programs, such as medical assistant, radiography, veterinary assistant and pharmacy technician.
PMI operates a total of 13 campuses in seven western states, with locations in Albuquerque; Tucson and Mesa, Ariz.; Denver and Colorado Springs, Colo.; Seattle and Renton, Wash.; Las Vegas; Houston; and Chula Vista, Calif. For more information and a complete list of programs offered at each of our campuses, visit pmi.edu or call 1-888-442-5998.
# # #