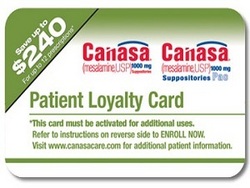 Both insured and uninsured patients can significantly benefit from visiting this website and viewing the available coupons for free.
Pittsburgh, PA (PRWEB) March 13, 2011
Canasa Coupon Website launches to inform the public of a new Canasa Coupon that can save patients $240 for free. Sponsored by the Prescription Discount Card RxBattle.com, canasa coupon showcases the Patient Loyalty Card which gives savings of up to $20 on patients first prescription for CANASA® and up to 11 additional prescriptions. Prescription quantity must be for 30 suppositories or more. Patients are required to pay the first $40 of your out-of-pocket expenses to realize these savings. This coupon is most suited for people with prescription insurance and can help offset their co-pay.
The new Canasa Coupon website also lists a new Canasa Coupon that benefits uninsured Americans and can save them up to 23% on their Canasa Prescription at over 56,000 pharmacies in the US and Puerto Rico. This coupon can be used by anyone for free and can be used an unlimited number of times as long as the offer is good. An example savings is from someone who saved $80 at a Kroger Pharmacy using this coupon.
For patients taking other medications, RxBattle also sponsors the Prescription Coupon website with over 1,000 active prescription coupons listed saving people over $1,000,000 per month on their prescription medications. The coupon list is updated regularly and is a resources that anyone can use to find ways to save money on their prescription medications regardless of whether they have health insurance or not.
Contact:
James Fowkes
support(at)rxbattle(dot)com
888-267-4896
###