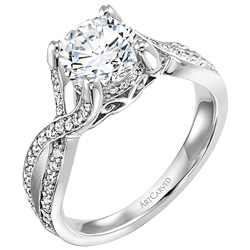 "This is a complete shock"
New York, NY (PRWEB) March 13, 2011
Cold weather, rain and high winds didn't deter nearly 1,000 people from participating in the Amazing Ring Race – Houston, sponsored by local jeweler Thomas Markle Jewelers.
Thomas Markle partnered with ArtCarved Bridal to produce this SCVNGR (pronounced scavenger) event in The Woodlands area of Houston over the weekend. Over 2,000 couples registered, making this the largest ArtCarved Bridal co-sponsored event in over two years. Consumers from the greater Houston area arrived hours before the game actually started to partake in this live scavenger-hunt event, which is a location-based game designed for consumers using mobile technology to find and answer various clues within a few hours time. The grand prize was a gorgeous $15,000 ArtCarved Limited Edition Engagement ring.
Minor setbacks such as gusty winds, rain and below average temperatures weren't enough to divert Kerry and Daniel from their mission of winning the grand prize of the $15,000 ArtCarved diamond ring. The winners worked their way from the back of the crowd, crying tears of joy all the way up front to the stage, and were speechless when the microphone was put in their hands. Adding to this surreal moment, Daniel knelt on one knee and asked Kerry to marry him. The entire event was covered in multiple segments on NBC TV local affiliate KPRC and The Buzz 94.5 FM radio.
"This is a complete shock," Kerry said after Daniel slipped the ArtCarved Limited Edition engagement ring on her finger.
"We were pleased with the turnout and enthusiasm of all participants despite the challenging weather conditions," states Tom Tanner, Vice President of Marketing for Frederick Goldman, Inc., parent company that manages the ArtCarved Bridal brand. "We would like to thank Thomas Markle Jewelers and all of the participants. We also want to congratulate our winners who proved dreams really can come true, especially with a little help from ArtCarved."
In these "green" events, participants are not allowed to use any motorized equipment, such as automobiles or motorcycles. Reusable water bottles were provided and recycle bins collected any paper, plastic and/or cardboard used during the event.
ArtCarved Bridal partners with select jewelry retailers throughout the country to produce consumer-facing SCVNGR events during the year to generate brand awareness and consumer traffic with the goal of developing new business opportunities for both ArtCarved Bridal and the local jewelry retailer.
For additional information contact Tom Tanner, Vice President of Marketing at ttanner(at)fgoldman(dot)com or 212-807-2120.
###