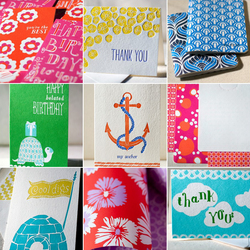 Syracuse, NY (PRWEB) March 17, 2011
Smock, an eco stationery line specializing in luxury letterpress goods, has introduced a new collection of super stylish stationery and paper goods, including newly FSC certified products, letterpress cards, wrapping paper, keepsake boxes, mini notebooks, gift bags, and recycled sticky notes – all available on their website http://www.smockpaper.com. The new collection showcases richly colored and graphic designs, drawing inspiration from diverse sources including vintage fabrics, 1940s poster art, vintage sheet music, Henri Matisse, and Milton Avery. Featured in the new release is Smock's exclusive luxury bamboo paper, made just for Smock in a 500-year-old European paper mill. Smock is a leader in eco-friendly letterpress, stationery and paper goods.
New Everyday + Studio Collection Releases:
Sticky note cubes – Not only fashionable but also FSC certified, Smock's new sticky note squares feature vibrant graphic motifs, made from 100% post-consumer recycled paper in Upstate New York.
Patterned boxes – Bold, colorful gift boxes perfect for gift-giving, keepsakes or as stylish storage solutions – acid free and made in Upstate New York from 100% post consumer recycled materials.
Gift bags - Designed by Smock and made in the Himalayan mountains by a community-owned group dedicated to sustainable forestry. Smock's new eco gift bags are FSC Certified and undeniably special, made from handmade Lokta paper using traditional papermaking techniques from the 12th Century A.D.
Bamboo greeting cards – In festive and fresh new color combinations and featuring distinctive hand lettering style, Smock's ever popular collection of letterpress greeting cards now encompasses even more occasions including graduation, baptism/christening congratulations, bar/bat mitzvah congratulations, happy new home, and pet sympathy, in addition to happy birthday, holiday, Mother's Day, Father's Day, anniversary cards, engagement, love, baby congratulations cards and more. Smock has also just introduced new flat, offset printed greeting cards, offering even more color and occasions at an all new, lower price point.
Eco notepads + notebooks - Smock's new recycled notepads (featuring bamboo letterpress covers and 100% post consumer recycled paper pages) and recycled notebooks (with vibrant patterned covers, made from 100% post consumer recycled materials) perfectly coordinate with the boxes, bags and attachments in Smock's bold new Studio collection. They are festive and bright and perfect for taking down notes while dreaming up the next big thing.
New gift wrap designs – New to Smock's Everyday stationery collection, look for eight new double-sided recycled wrapping paper patterns, sustainably printed on 100% post-consumer recycled paper and boasting bold double-sided patterns in fresh, one of a kind color combinations.
For more information and additional photographs, visit Smock.
About the Designer:
Smock's designer Amy Graham Stigler's unique sense of style is informed by her art history background and her love for vintage wallpapers, hand-lettering, vintage ephemera, antique embroidered linens, and slightly tattered architecture. Stigler previously founded Snow & Graham before joining Smock. The collection includes a custom letterpress wedding album offered at fine retailers worldwide; a custom social occasions album featuring essential social stationery; and a line of everyday stationery goods including greeting cards, note cards, gift wrap, gift boxes, gift bags, note books, gift tags and more.
About Smock:
Smock is a true environmental letterpress and stationery line - in addition to printing on sustainable bamboo and 100% post consumer recycled papers, Smock is also wind powered, a member of Green America's Green Business Network and donates 1% of sales to environmental causes. Smock offers free bus passes to employees to help encourage use of public transit and subsidizes 20-week Community Supported Agriculture memberships with a local organic farm. Smock regularly partners with organizations such as the Amazon Conservation Association and American Forests to help promote environmental causes that affect the globe. Hand made in an Upstate New York artisan print shop by a company with a passion for fine art letterpress printing, Smock's collection is produced with love, a respect for the Earth, and a commitment to making truly beautiful handcrafted stationery and paper goods for all occasions. Smock's letterpress invitations, stationery and paper goods have been featured in major magazines such as Martha Stewart Living, Martha Stewart Weddings, Better Homes and Gardens, InStyle, and House Beautiful as well as by online media outlets such as design*sponge, Style Me Pretty, Apartment Therapy and Real Simple.
# # #